Photographs on a variety of themes taken over the last 50 years using a variety of methods have been carefully selected and are presented in five sections: GOD (The deceased); STAR (The celebrities); SPECTACLE (Dream worlds that take us to another dimension); BODY (The body undressed - beauty, eroticism, struggle); and ACCIDENTS (Disaster 11 March 2011 - Portraits of victims of the Great East Japan Earthquake).
ACCIDENTS (Disaster 11 March 2011 - Portraits of victims of the Great East Japan Earthquake)
One could say that the Great East Japan earthquake and tsunami, a disaster of hitherto unseen proportions, compelled the Japanese to fundamentally change their perception of the world. Until recently Shinoyama has maintained a certain distance from so-called "documentary" photography, but he has stated that as a photographer he was unable to treat this event as if it "didn't happen." Fifty days after the earthquake and tsunami struck, Shinoyama visited the disaster area and photographed the ruined landscape and took portraits of the victims. While in the area, he was filled with dread and awe at the "power" of nature to change the natural landscape on a scale beyond that of humans. Rather than going out of his way to highlight the tragic aspects of the situation, he was determined to accept things as he found them and simply photographed the victims in standing poses with absolutely no staging or direction. What are the victims standing in front of the camera with their ruined community behind them saying and what are they communicating? The answer probably lies somewhere beyond the intentions of both Shinoyama and the subjects. It also offers an insight into the destiny, and the possibilities, of photography. Shinoyama is constantly aware of this, and continues to earnestly verify it even today as he undertakes new activities.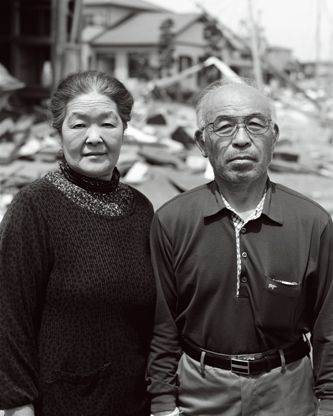 2011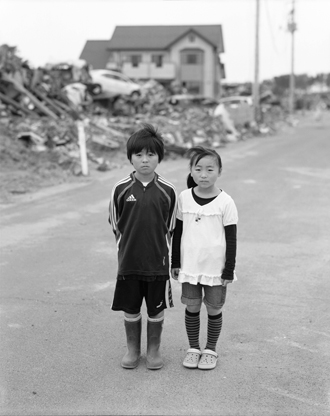 2011