Photographs on a variety of themes taken over the last 50 years using a variety of methods have been carefully selected and are presented in five sections: GOD (The deceased); STAR (The celebrities); SPECTACLE (Dream worlds that take us to another dimension); BODY (The body undressed - beauty, eroticism, struggle); and ACCIDENTS (Disaster 11 March 2011 - Portraits of victims of the Great East Japan Earthquake).
SPECTACLE (Dream worlds that take us to another dimension)
"Photography is untruth." "An untrue untruth is the truth." As evidenced by these and other aphorisms, Shinoyama does not view photography as an objective record of the truth or actual events; rather, he believes the power of photography resides in the reality that emerges unexpectedly in the space between fact and fiction. For Shinoyama, photographing the fabricated, fictional realm is an act that is doubly, even triply interesting. This is because the complex blend of fact and fiction often gives rise to a reality that is inconceivably powerful. Most of the photographs in this section are from the series in which he assumed the guise of the character "Shinoraman" and took photographs at Disneyland while it was closed to the public and the Kabuki series that saw him throw himself into his task to the point that during the shoot he achieved a total rapport with the actors. That the world of dreams should start to take on an almost irresistible sense of reality can probably be put down to the fact that Shinoyama thrusts himself into this world and by interpreting the fictional realm through the fiction of "photography" is able to show up the truth.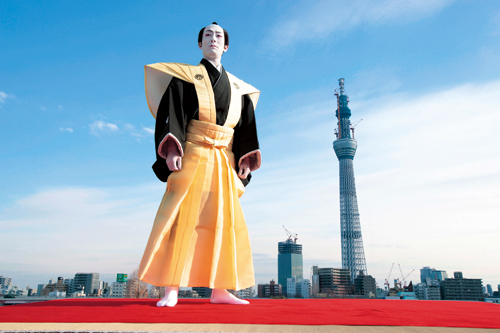 Nakamura Kankuro VI, 2011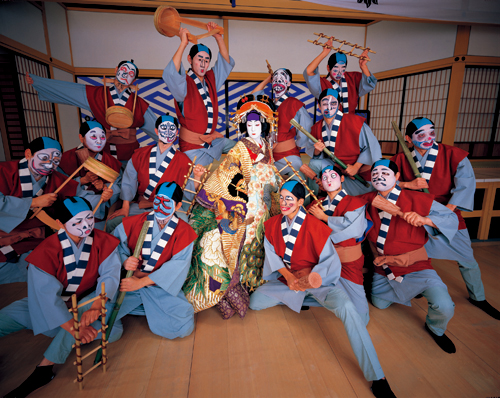 Tamasaburo Bando as Akoya in Dan-no-ura Kabuto Gunki - Akoya, Jan. 2000