Artist's Statement and Profile
Some things can only be obtained through moving my body to face my photographic subject head-on.
I have found this an effective way to approach, however incrementally, the unanswerable question of why I find myself alive right here and right now.
After living this way for more than thirty years, I felt the desire to once more confirm the ground on which I stood.
Not in terms of regional or national bounds, but the fact that I was on a planet.
When I visited Iceland in the summer of 2019—I had been there only once before, some twenty years ago—that desire was fulfilled.
I saw geysers like the planet's breath and glaciers far beyond any human time. And what I saw seemed to illuminate my own existence.
One experience inside a dormant volcano left a particularly strong impression.
When I looked up, I saw light spilling in through the crater above, and its shape was reminiscent of female genitalia. As I gazed at this sight, I had the sense of being a fetus enveloped by the earth, and I felt a connection to this planet I have never felt before.
My plans to visit Iceland again in winter to probe these connections more deeply were thwarted by COVID-19. Partly as a result of this, I visited Hokkaido many times in the winter of last year. There I saw things that could only be seen in the bitterest cold, and recalled how small and frail my own body truly was.
Take the initials of "Mother Earth," and the result is "M/E."
When I wrote out those two letters, I felt a connection between all things, from those so vast their full form cannot be surveyed with the naked eye to the tiniest individuals—and was reminded of that mysterious sensation I experienced beneath the volcanic crater of inversion and unity between the planet and myself.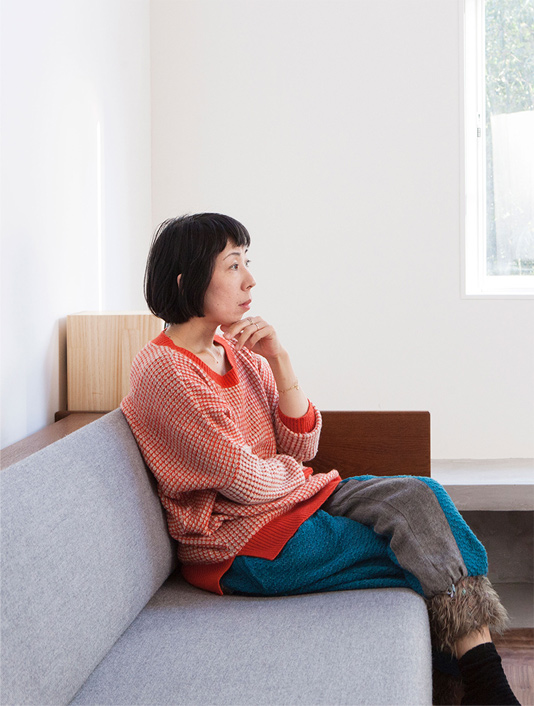 Rinko Kawauchi Profile
Photographer. Born 1972 in Shiga Prefecture. Received the 27th Kimura Ihei Photography Award in 2002 for Utatane and Hanabi (published by Little More). Other publications include Aila (2005), the eyes, the ears and Cui Cui (both 2005), Illuminance (2011, revised 2021), and Ametsuchi (2013). Received the 25th Annual Infinity Award, Art Category, from the International Center of Photography in 2009 and the Art Encouragement Prize for New Artists from the Ministry of Education in 2013. Major exhibitions in Japan include Cui Cui (Vangi Sculpture Garden Museum, Shizuoka, 2008), Illuminance, Ametsuchi, Seeing Shadow (Tokyo Metropolitan Museum of Photography, 2012), and The river embraced me (Contemporary Art Museum, Kumamoto, 2016). Recent publications include the photobooks Des oiseaux, Illuminance: The Tenth Anniversary Edition, Yamanami, and Making Daidai Shoten (coauthored with Hisako Tajiri).