Toru Takemitsu Composition Award
Results
Judge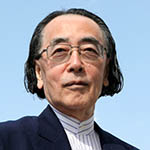 Final Concert
Sunday 29 May 2016 | Tokyo Opera City Concert Hall : Takemitsu Memorial
Kentaro Kawase, conductor / Tokyo Philharmonic Orchestra
WINNERS
1st Prize

Michael Seltenreich (Israel)
ARCHETYPE Cash Award
800,000 yen

Hirofumi Mogi (Japan)
"Let's speak in Wondrous Words!" for Orchestra Cash Award
800,000 yen
2nd Prize

Myunghoon Park (Korea)
triple sensibilities for orchestra Cash Award
700,000 yen

Alice Nakamura (Japan)
Nacres for Orchestra Cash Award
700,000 yen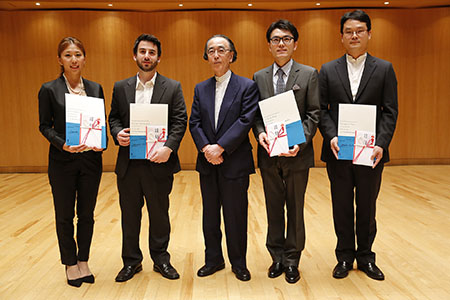 Comments by Toshi Ichiyanagi, judge
The four composers that you have heard today, each were very much dedicated and took their time and care in composing their pieces. In that way, all these four composers were excellent.
I believe that through studying these pieces that there were two main approaches in their compositions. One was the specific images that they had created. They took a specific item and tried to make it into a musical work. The other was the conceptual work of what is music – what is it that we are doing now. I think the compositions could be divided into these two categories.
We are limited for time, so I will not get into the details of each and every piece but I will make a short comment on each composition we have heard today. I will speak in the order of performance.

The first piece we heard was triple sensibilities by Myunghoon Park. This piece contained a long sustained note that was coming throughout the piece. And as this long tone progressed and developed over time, there were moments of strong accents and explosions, and the moments afterwards, so the contrasts between the two were quite impressive.
As this slow piece gradually took shape and found its direction, the overall picture of the piece becomes clear as time goes by. And this developed into a very convincing, powerful piece by the end.
Also another memorable character of this piece was the presence of instruments such as the piccolo trumpet, baritone saxophone and water gongs. These instruments that are not part of the normal orchestral set-up had supported the texture of the overall piece.

Next is the piece by Hirofumi Mogi: "Let's speak in Wondrous Words!". The main characteristic of this piece I felt was that unlike many contemporary pieces that use very specific and special techniques, this piece did not require such novel techniques. Except for the microtonal passages one could feel in the moments of the glissandos, I was able to listen to the piece without noticing these special performance techniques.
The combination of the massive sounds and also the unison ended up creating the very natural sound world I listened to today. Even though it was mainly musical tones, through his handling of musical range and rhythm, it became noise, but the contrast had resolved by the end of the piece. This transparent tone contributed to creating an atmosphere different from what we normally hear from an orchestra. It was a very powerful effect.

Next is the piece by Michael Seltenreich: ARCHETYPE. I felt that this was a very rare piece in that it was very precisely and densely written and very unique with clear development and contrasts. As the title, the music throughout this composition was thoroughly thought out and it was written with a very modern motif and resulted in creating a very deep, thick musical texture. And this musical realization lasted throughout the piece, and the thorough orchestration enabled the orchestra to sound with vitality. This resulted in a perpetual movement forward, which helped in the creation of the structure of this piece.
You must have heard the canon played by the violin and cello solos at the end. This "archetype" melody gave us the reason for the presence of this particular piece.

The fourth piece is Nacres by Alice Nakamura. This piece I felt was the natural progressive process of nature and this enveloped the entire piece. The descriptive nature of the music was not fixed, and this led to the future of the musical ideas which enabled to pull out the various ideas that were to come in the piece. This was all done in a very convincing manner.
The central instrument of this piece was the vibraphone, and the interaction with the other instruments of the orchestra enveloped the whole piece, giving it a very special orchestral sound.

These are my comments for each individual piece.

As I mentioned in the beginning, the four composers that you heard today and their four pieces, you can tell that their musical attitude has been very thorough and the pieces handled with great care. I would like to express my great respect for all four composers.

I am rather an older composer now, but when I was young, probably around your age, the television appeared. Half a century has passed since then, but I feel that today on television it is mostly bombarded with commercials and entertainment. Now well into the 21st century, I feel that in the musical life and world, we need to somehow exit this environment that we are surrounded by.

Of the four composers that we have heard today, I believe there is no big difference between the first prize winner and the fourth prize winner. Therefore, in this year's competition, I will award only first and second prizes – there will be two first prize winners and two second prize winners.
For the same reason I have just given, the difference in the prize money between the first prize and the second prize is minimal. The first prize winners will receive ¥800,000 each and the second prize winners will receive ¥700,000 each. The total of the four prizes will be ¥3,000,000.

I thank all of you here for your attention today. I would also like to thank Maestro Kentaro Kawase and the Tokyo Philharmonic Orchestra for their enthusiastic performance. It is they who will be developing and creating the musical culture of Japan in the future. Japan today, unlike when I was younger during the age of the bubble economy, society itself is more introvert. I hope that the musical culture that we are creating and the people involved will enable us to move forward in the future.

Now I would like to announce the prizewinners and call them onto the stage.
Second prize winners are Myunghoon Park and Alice Nakamura.
First prize winners are Michael Seltenreich and Hirofumi Mogi.
Congratulations all.
Prizewinners
1st Prize
Michael Seltenreich (Israel)

ARCHETYPE
Born in Tel-Aviv, Israel in 1988. Native of Israel where his works are regularly performed by some of the country's finest orchestras & ensembles, among them, The Israel Philharmonic, The Israel Opera and The National Radio Orchestra. Until he left for Paris to continue his studies he has been employed by the Israel Opera as their lead orchestrator. He is the recipient of several domestic and international awards and is the youngest composer ever to be awarded the 1st prize in the Salvatore Martirano Memorial Composition Award, and most recently he won the Arthur Friedman prize for "an outstanding orchestral work" and The Frank Robert Abell Young Composer Competition for New Chamber Music. Completed his Bachelor's degree at Tel-Aviv University; This is his debut year in New York city where he is currently pursuing his Master's degree at The Juilliard School under the direction of Matthias Pintscher.
https://www.michaelseltenreich.com/
Comment

It is such a great honour to be here tonight. It is my first time in Tokyo and I'm not disappointed. When I got the call six months ago notifying me that I was selected as the finalist of this competition, I remember exactly what time it was, I know exactly where I was standing and what I was doing. That moment was engraved in my mind forever, because this competition is the biggest dream for young composer worldwide.
I would like to thank Tokyo Opera City Cultural Foundation for organizing this competition, for providing this opportunity for young composers. I'm not going to list every person that I want to thank as time is short, but I will just say all the organizers were wonderful hosts. The task of organizing this large event is very difficult. Also thank you for making this visit to Tokyo truly an unforgettable one.
When I wrote my piece, I was inspired by the notion that music means so much to people, regardless of where they are from. In fact, not only is music loved by all but it also has the power to connect people together. When you see an orchestra playing, you are witnessing about 100 people moving in perfect sync with one another, all joined in a single effort to create music. The idea behind my piece was to find the basic building blocks of music and to find a way to express not Israeli or American or Japanese music, but music that will exist outside of a time and outside of a place, an archetype of the basic elements of melody and rhythm that are in the score. I find it very poetic that this piece was premiered here in Tokyo, so far away from my home, and the fact that I'm here tonight proves that at least to some extent I achieved my goal.
I would like to thank the Tokyo Philharmonic Orchestra for playing my demanding piece masterfully and with passion, and to Maestro Kawase who lead the orchestra brilliantly. I would also like to thank Ichiyanagi-san for selecting my score and allowing me to participate in this rare and unique experience. Finally, I would like to thank you all for coming here tonight and helping make this event one that I would never forget. Thank you.
1st Prize
Hirofumi Mogi (Japan)

"Let's speak in Wondrous Words!"
for Orchestra
Born in Chiba prefecture, Japan in 1988. He had finished master course of Tokyo College of music with the major in composition in 2014. He had studied composition under Shin-ichiro Ikebe, Tomiko Kohjiba, Junmei Suzuki, Akira Nishimura, Keiko Harada, Yutaka Fujiwara and Masaki Murata. He had studied conducting under Yasuhiko Shiozawa, Yasufumi Tokito, Yoshihisa Noguchi. Now he works for composition Department at Tokyo College of music as a composition member staff. He had received a composition prize with the piece of Violin Concerto "Memories of wave". The prize was organized by Yamagata Symphony Orchestra, and 3rd prize and Hatanaka prize of Sogakudo Japanese Song composition competition in 2015. He became the finalists of the international Composition contest Valentino Bucchi prize in 2015. His piece "Specimens of time" for solo timpanist and 4 percussionist is published with Tokyo Hustle Copy.
Comment

Firstly I would like to thank Mr. Ichiyanagi for giving me this opportunity to participate in this competition, and also Maestro Kawase and the Tokyo Philharmonic Orchestra, and everyone from the Tokyo Opera City Cultural Foundation for making this event possible. Michael just spoke about what he was doing when he received the call that he was in the finals, and I thought back about what I was doing. Actually, I thought the call was about an unpaid ticket from Opera City, but it wasn't and it was the news of my selection for the final of the competition.
The main theme of my composition is the interaction within the orchestra. The details are in the programme so I won't go into it now but I have some complementary information that I would like to share with you.
The title of the work comes from Fujiko F. Fujio who described Science Fiction as "a somewhat wondrous story".
My interest also lies in theatre, and in particular I was very interested at one time in the underground theatrical movement and avant-garde theatre in the late 1960s and 1970s. I have studied the works of playwrights such as Shuji Terayama and Juro Kara. Through their works, you could feel the energy from the actors reacting with each other, and also the words flying like bullets on stage. It was a magical, wondrous world that they were creating on stage and I realized that the exact words they were speaking really didn't matter. It goes without saying that this experience gave a very deep impact on the creation of this particular piece today.
There are many genres in music and I believe that they all have their meanings. To judge one is higher or lower than the other is complete nonsense. But in this world of mass production and mass consumption, the value of art is declining and the media control of our values is getting stronger. I feel that there will be a greater gap between art and mass media in the near future. It seems that in the 1960s and 70s all the various artists had collaborated more freely amongst themselves. I'm sure it still exists somewhere in this day, but somehow these collaborations are not taken up by the media and if they are taken up at all, they are handled either as a freak show or as something very superior in a different sense.
My goal for the future is that I would like to continue writing this pure art form of composition, but also to collaborate with other art forms such as movies, animes and theatre. As I have spoken about my views on the current situation, whatever I can do to change it for the future, I will do my very best. Of course in my search for a path I may veer off course, but I hope I will be able to contribute in affecting this categorized situation.
Lastly, I would like to thank my family, my friends, my teachers and all those who have given me advice. I feel I have taken my first step of my future journey and I would like to give my thanks to everyone here.
2nd Prize
Myunghoon Park (Korea)

triple sensibilities
for orchestra
Born in Seoul, Korea in 1980. He completed his composition studies, first with Zong-gu Yi at the Hanyang University in Seoul, then with York Höller, Rebecca Saunders, Michael Beil and Johannes Schöllhorn at the Cologne Conservatory (instrumental and electronic composition) and completed his studies in Excellence-study for composition with José M. Sánchez-Verdú at the Robert Schumann Conservatory in Düsseldorf. He won prizes at several competitions: Grand Prix at the International Isang Yun Composition Prize, awards in Composition Competition of the WDR and the Cologne Conservatory, Gaudeamus Competition and the finalist in the Queen Elisabeth Competition for Composers in Brussels. He is the artistic director of the Ensemble Eins and teaches composition at the Hanyang University in Seoul.
https://www.myunghoonpark.com/
Comment

My speech is short for you. Good afternoon, ladies and gentlemen. I am very happy now because I was invited here in Japan and had a chance to show my music in this Toru Takemitsu Competition. I feel that this contest is wonderful and gives great experience to me. I really appreciate everything.
My father is a painter and his works have inspired my pieces many times. While I was composing the music for this competition, I tried to reflect the image of my father's painting. Reflecting images was difficult work but I really enjoyed it. Wonderfully, today is the world premiere of that music. I'm so glad about it.
Now I would like to say thank you to Mr. Toshi Ichiyanagi, Maestro Kentaro Kawase and the Tokyo Philharmonic Orchestra for the wonderful world premiere of my piece. Also to all the staff of the Tokyo Opera City Cultural Foundation, thank you very much.
2nd Prize
Alice Nakamura (Japan)

Nacres
for Orchestra
Born in Tokyo, Japan in 1982. She received a master's degree from the graduate school of Tokyo College of Music in 2007. She studied composition with Akira Nishimura, Noriko Hisada, and Sho Ueda, piano performance with Yukiko Takeshima and Setsuko Miyahara, piano duo with Yulia Kozlova, and jazz piano with Bill Augustine and Yuki Makita. She has been awarded the top prize in the 2nd President's Prize of Tokyo College of Music, second prize in Composition at the 82nd Music Competition of Japan, and more than 80 awards including Red Baton award in the Red Stick International Animation Festival in 2009 in video work "Lost Utopia" which she provided the music. Her recent work includes "RCH(NH2)COOH for Clarinet in B♭& Pianoforte" (2013), "32.7℃ for Vibraphone (with Cymbal) and Pianoforte" (2014), "WEEW WOW for Wind Orchestra and Strings" (2015), "Phra-a-phay-ma-nii for Men's chorus" (2015) among others.
Comment

Today I am so happy that my work has been performed on stage and also I have been awarded this wonderful prize. For me, this was the first time that my piece was performed by an orchestra. And to the people who made the piece come to life, the Tokyo Philharmonic Orchestra and Maestro Kawase, I would like to thank them very much.
Including all the meetings, the last five days have been moments of intense pressure. Through the rehearsals and practice, I said to myself that I need to be more efficient and convincing in my notation in the future. The Toru Takemitsu Composition Award is a competition but it was also a wonderful opportunity for me to meet colleagues of my age. Backstage we were all very friendly and having a good time, and during the rehearsals we were able to listen to each other's music with score so it was a great revelation for me as well. So I would like to thank my colleagues, Mr. Park, Mr. Mogi and Michael for our time together. Finally, I would like to thank Mr. Ichiyanagi for allowing me to participate this evening on this stage. Of course, I would like to thank my teachers, my parents, my friends and also all the members of the Tokyo Opera City Cultural Foundation for making this all possible. I hope that this experience today will enable me to move forward and create new works in the future.
Contact us
Tokyo Opera City Cultural Foundation
3-20-2 Nishi-Shinjuku, Shinjuku-ku, Tokyo 163-1403 JAPAN
Tel. +81 3 5353 0770
Fax.+81 3 5353 0771