Facilities
Concert Hall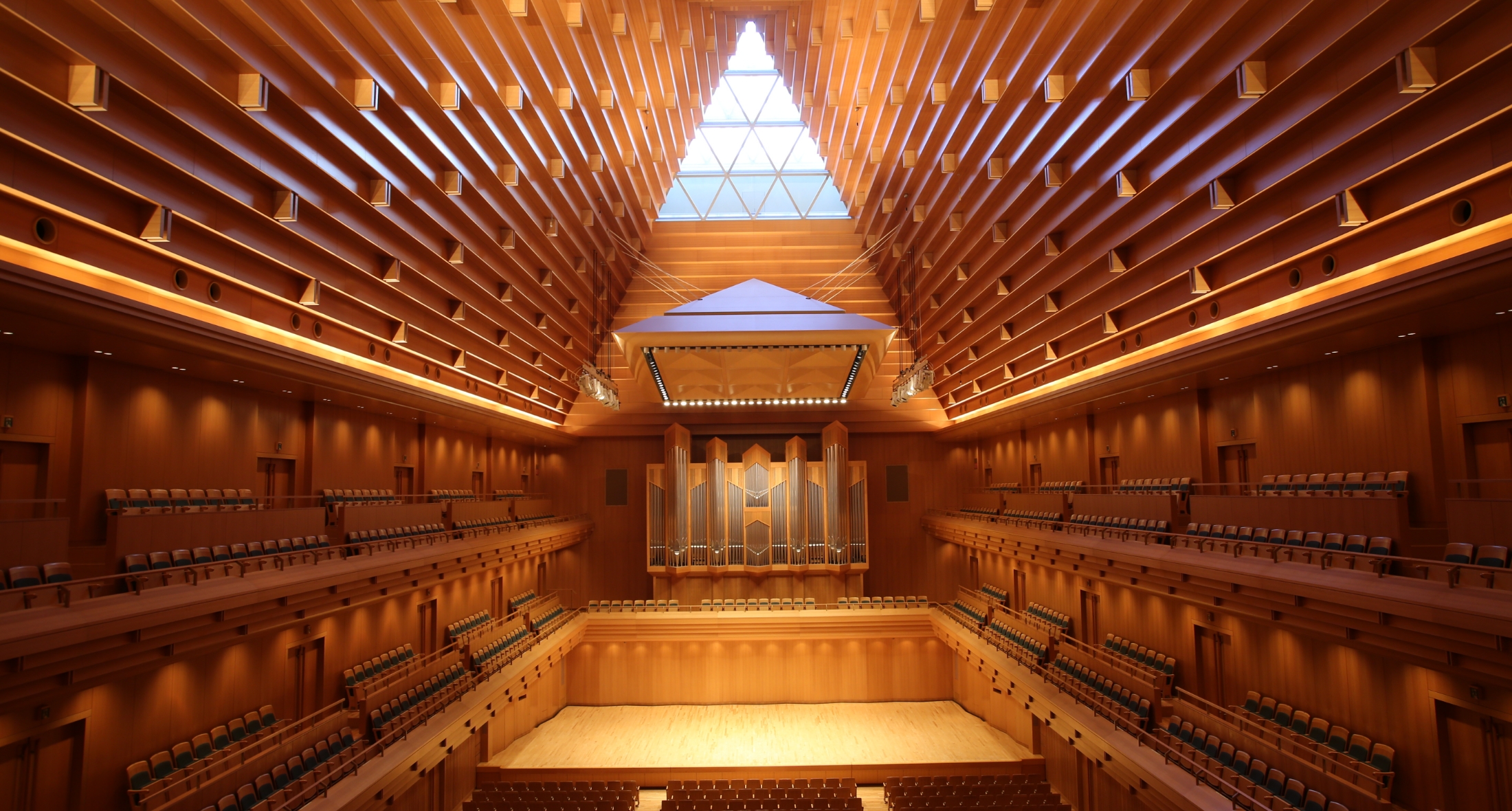 Tokyo Opera City Concert Hall : Takemitsu Memorial
The hall debuted on September 10, 1997, with a performance of J. S. Bach's Saint Mathew's Passion performed by the Saito Kinen Festival Orchestra under the direction of Seiji Ozawa.br
Acoustically, the hall is designed in the so-called shoebox style with a vaulting pyramidal with the interior completely mantled in oak. The most innovative advances of modern technology have been brought into play to create ideal acoustic conditions and the wooden interior with upper lightning furthermore stimulates a sense of tranquil composure.
The late Toru Takemitsu (1930-1996), an artistic director of the Tokyo Opera City Cultural Foundation had acted as adviser in the formulation of the basic concept of the hall and also supervised the opening series of concerts. The hall is dedicated to his memory due to his untimely death prior to its inauguration.
Inaugural performance:

10 September, 1997
Architects:

NTT Facilities INC.
Urban Planning and Design Institute. Co.
TAK Associated Architects INC.
Acoustic design:

Takenaka Corporation Research and Development Institute
Acoustic adviser:

Leo Beranek
Seating capacity:

Total 1632
1st floor:

974 (incl. 4 wheelchairs)
2nd floor (balcony):

356 (26 in front of pipe organ)
3rd floor (balcony):

302
Hall size:

20.0m(w)*41.4m(d)*27.6m(h)
Reverberation time, occupied:

1.95sec
Stage size:

17.1/19.5m width, 9m depth (+1.9m front extension)
Instruments:

Pianos - 3 Steinway D274, I Bösendorfer 290
Cembalo - Von Nagel, French double manual
Positive organ - Marc Garnier, 4 stops
Pipe Organ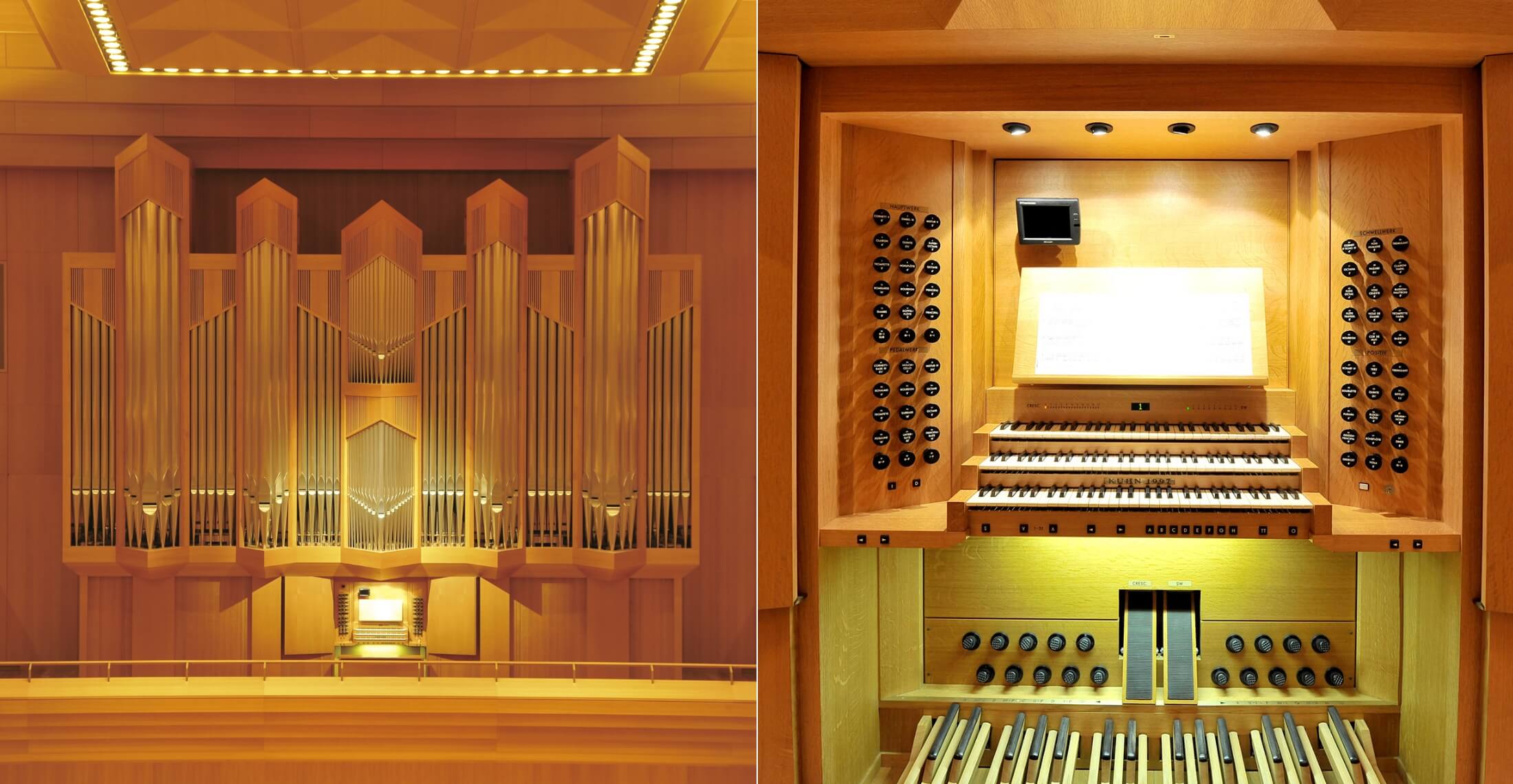 The pipe organ dominates the front of the hall on the 1st balcony level.
Design, Builder:

Orgelbau TH Kuhn (Switzerland), Yamaha Corporation
Number of pipes:

3826
Number of stops:

54
Console:

1st manual keyboard / Hauptwerk C-a3 15 stops
2nd manual keyboard / Positive C-a3 13 stops
3rd manual keyboard / Schwellwerk C-a3 14 stops
Pedal keyboard / Pedal C-g1 12 stops
Key action:

mechanical
Stop action:

electric
Memory system:

800 memory combinations
Supervisor:

Guy Bovet
Foyer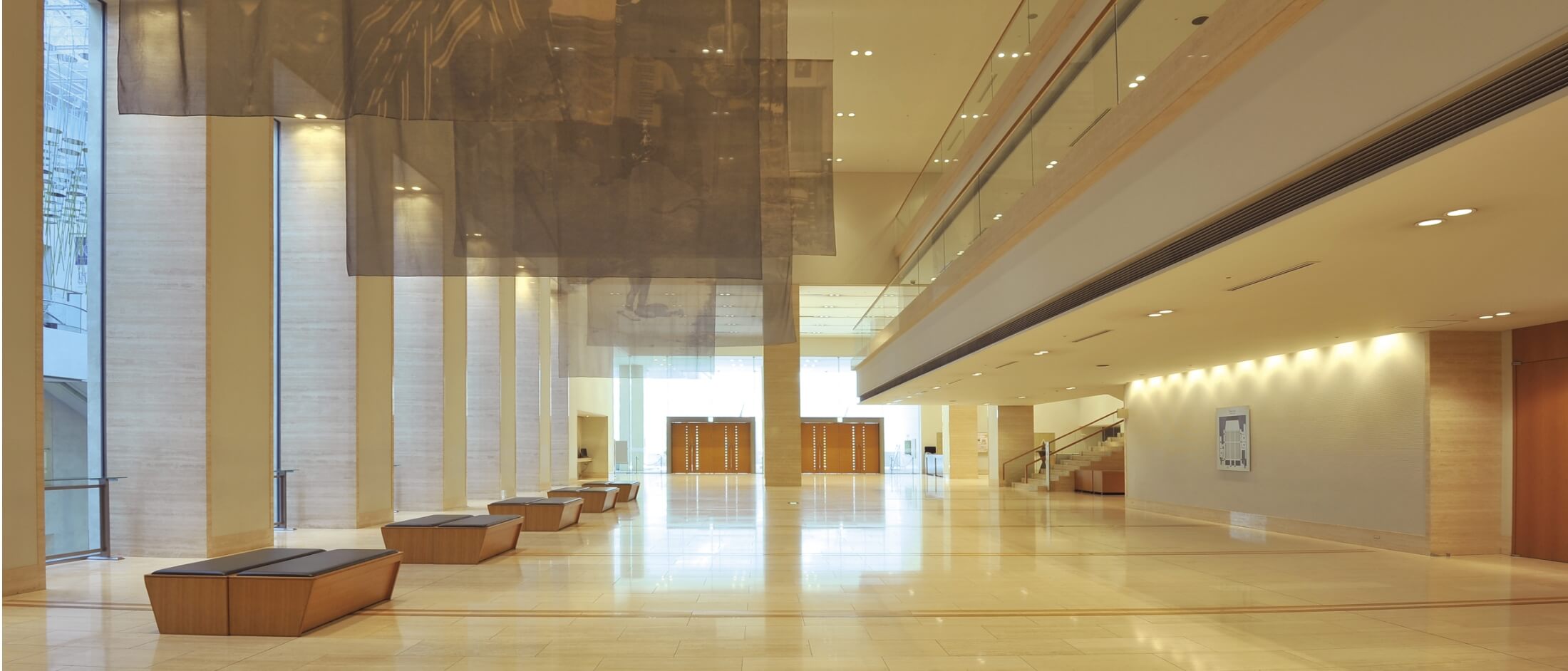 The foyer, which soars to a height of three stories (11.3m), is decorated by tapestries entitled Amplification, a work of Christian Marclee, which hang from the ceiling. It is also provides which buffet counters on the 1st and 2nd floor levels. A relief of the late Toru Takemitsu occupies a central location in the foyer.
Dressing Rooms
8 private rooms (2 with pianos, 2 with bath, 4 with toilets) 2 large rooms
An artists' lobby is also available.