Toru Takemitsu Composition Award
Results
Judge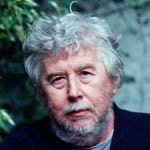 Final Concert
Sunday 26 May 2013 | Tokyo Opera City Concert Hall : Takemitsu Memorial
Toshiyuki Kudo, conductor / Tokyo Philharmonic Orchestra
WINNERS
1st Prize

Marcin Stańczyk (Poland)
SIGHS - hommage à Fryderyk Chopin Cash Award
1,000,000 yen
2nd Prize

Sumio Kobayashi (Japan)
The Lark in Snow Cash Award
800,000 yen
3rd Prize

Huan Liu (China)
Zwei Landschaftsbilder Cash Award
600,000 yen

Nana Kamiyama (Japan)
"CLOSE" to you to "OPEN" Cash Award
600,000 yen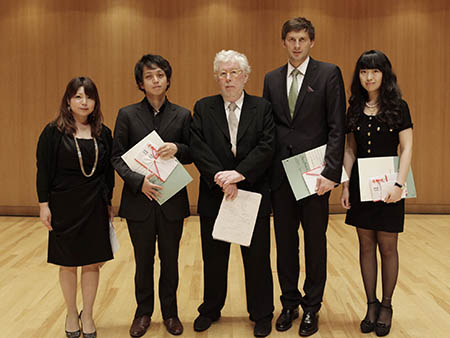 Comments by Sir Harrison Birtwistle, judge
First I would like to say how honoured I am to be given this task of adjudicating the Toru Takemitsu Composition Award. It was one of the most difficult things I can remember doing for many reasons. Because in most competitions, for instance if it was a painting competition, you will be able to see the painting; if it was for food (we have a lot of food programmes on the television in England), you can taste the food. It is different if you are given a score, which simply has hieroglyphics. It is a bit like these restaurants in Tokyo where you have imitation food in the windows, which tells you everything about it apart from what it tastes like. The taste has to be in your imagination. Looking at music without hearing it is very similar.

But, one day two large boxes arrived at my door which contained nearly 100 scores of complex orchestral music. Wearing an objective hat, it was my way of thinking that I had to look at these works without relation to what my inner preferences might be, that I had to look at them not in a subjective manner. How is one supposed to do this? Well, my plan was to look at each of these pieces irrespective of what I really thought about them, but to try to find a way into them, and to give them a chance without getting my musical personality in the way of them. Looking at music is what I do most of my life in a sense because when I compose a piece of music, I have the same problem. But in this case, it's somebody else's. I don't altogether make decisions about them by simply not hearing them. I have other means of getting into the music as a composer.

So I decided to spend certain hours, maybe one or two hours, but at least give each piece of music 15 minutes of my intuition, and that's what I did. When I had done this, which took about two months from receiving the scores to having looked through them once, it did turn out that with a lot of them I could make a hasty decision and simply reject them. In the end, I got them down to something like 40 pieces.
But, there was a problem. The problem was that, in my opinion, a lot of them were what you might call the same piece. They were expertly done, but very difficult to make a decision about one as opposed to another. That became a real problem for me. I categorized them and put them in two piles, and I'd like to describe the character/nature of these piles in a very general way. In short, there are two basic sorts – if I can be quite black and white about it. Of course, in creativity everything is not always that clear but to put my position into some sort of order, I have a sort of way of understanding it. To my left, there was what I called the "Rothko pile". By Rothko, it was just a metaphor for me, and I didn't mean that they were pieces of music trying to be Rothko. It was just my way of understanding it. I couldn't find a name for the others, as the interesting thing about the other pile was that they were to some degree all different.
The works in the "Rothko pile" are often very dense pieces, multi-layered and with not a lot of evidence of "linear invention", or melodic invention if you like. I don't know whether it has become a sort of cliché of writing music in the world – I don't know enough about it but as I'm here to be the expert, this is what I thought. Of the pieces you heard this evening, I would say that the first piece The Lark in Snow and the last piece SIGHS – hommage à Fryderyk Chopin were in the category of the "Rothko pile".

Very quickly, I have to take off my objective hat and to be subjective. Because in the end, I want to hear the music that I like, and we can often categorize pieces by other people in the way I wish I'd written them, and there were elements of this within these pieces that I've chosen – not necessary the whole piece, but elements of the piece.

So the two pieces Zwei Landschaftsbilder and "CLOSE" to you to "OPEN" I put in the category of narrative pieces.
In the case of Ms. Huan Liu's Zwei Landschaftsbilder, it's strange that someone should write two pieces about a picture in a narrative way. It doesn't matter – this is just an observation I made. When looking at this work, I detected a young hand, and I was correct. Titles are funny things to give pieces of music and often very difficult. I tend to think that something like Pictures at an Exhibition by Mussorgsky, it is more interesting if you take the subject away from it, because if you have a subject, it becomes about the subject, but if you take the subject away, then it means more than the sum total of the piece.
Now that I have heard Ms. Liu's piece and seen it, I think it's a very well-heard piece, and full of a lot of invention. I have a big criticism about it – it seems to me that it's like a piece in a permanent state of exposition. It's never where you think it's going to be next and it's always surprising you with another sort of invention, but these inventions that come one after the other actually belong to each other and there are not like other pieces of music.

Regarding Ms. Nana Kamiyama's "CLOSE" to you to "OPEN", once again I also detected a young hand and I think I was correct in that. The way that the piece unfolds – which is very different to Zwei Landschaftsbilder – is that it has what you might call a sense of perspective in that it begins with a solo violin and piano, and somehow uses these instruments to give an extra perspective to the piece. They appear as characters during the course of the work.
But one of the important things that drew me to this piece is the mixture of atonal music/high chromatic music with simple harmony/tonal music. That is a very difficult thing to bring off and I thought it was done extremely well in this piece. And what it also demonstrated was a high maturity for the orchestra. It was very well heard for the orchestra, maybe in rather a traditional way, but a very good ear in the sense that with all the proliferation of what it has, it's very clear what the journey of the music is.
In my time of teaching over the years, there's one thing that very often pieces suffer from, and these two pieces suffer from what I'm going to describe as the question of putting the tempo mark at the beginning of a piece of music and simply sticking to it like a sort of metronome. It's a question of actually listening to the music, and adjusting it so that there are nuances of tempo – I'm not talking about changes of tempo – and once you have that, it then influences the actual music you are writing. But if it is simply a chart, then it makes the music, as it did in this case, rather static.
In "CLOSE" to you to "OPEN", it had an element in it which could have been on the point of humour. I thought the tempo marks were too slow to start with but then again there was an element of the waltz that repeated and I think there's a better way of expressing this just in terms of tempo, giving conductor the opportunity to deal with the material.

Now I'll move to the other two pieces which I call "frieze pieces" in the sense that they have an element of "stasis". This doesn't mean they don't move but the difference between these pieces and the other two is that the movement is circular, like a wheel moving – a wheel might move/spin quickly but move slowly. That doesn't mean there is no development in it.
In the case of Mr. Marcin Stańczyk's piece SIGHS, the wheel gets quicker and moves over more ground. But the amount of ground is not the same as the speed of the wheel though.
The two pieces, SIGHS and The Lark in Snow, are in one sense minimal pieces. They take a lot out of traditional music and in anything minimal that you take out, you have to put something in to replace it. It's a bit like when you take the cream from the milk, the milk doesn't taste so good and you have to inject it with minerals in order to compensate what it isn't there.

In the case of Mr. Sumio Kobayashi's The Lark in Snow, if I can use the metaphor of the wheel, it is moving slowly and it gets a little faster and covers slightly more ground as it moves through the piece, whereas in SIGHS, the wheel is moving quicker and covering slow ground, but increasingly more. But more than that, it seems to me that it is a virtuoso piece in some respects: the proliferation of micro-moments of music which are really sort of piled on top of each other, but in a permeant state. When you pile one thing on top of another in music, you only hear one thing. For example, it is almost impossible to tell if it is four voices or five voices singing at the same time. By this, I'm not suggesting one shouldn't do what he has done, but what you get as the sum total is another sort of "oneness". Nevertheless, it is a virtuoso piece of musical awareness.
Whereas Mr. Kobayashi's The Lark in Snow which is to my mind a piece of poetic extremism, does the opposite. He has pared his material down to very little, and it is very beautifully heard. The use of the flute as a different voice and nothing else apart from the strings is one of the important elements of the piece. To say one little word about it, I also thought the tempo of that piece was a little bit too fast for it.

So, I have to give you my decision. I would like to give a joint third prize to the two pieces, "CLOSE" to you to "OPEN" and Zwei Landschaftsbilder. To the piece The Lark in Snow, I would like to give second prize, which means SIGHS – hommage à Fryderyk Chopin is the winner of the competition. Thank you.
Prizewinners
1st Prize
Marcin Stańczyk (Poland)

SIGHS - hommage à Fryderyk Chopin
Born in Łęczyca, Poland in 1977. Graduated from the Faculty of Law at the University of Łódź, and from the Academy of Music in Łódź, where he studied composition under Zygmunt Krauze. He also completed postgraduate studies at the Accademia Nazionale di Santa Cecilia in Rome under Ivan Fedele. He supplemented his education within CURSUS 1 at IRCAM in Paris. Received various prizes and scholarships and was recognized by different institutions including IMD Darmstadt, Reading Panel IRCAM, Royaumont, Jerwood, Laurentscantorij and Witold Lutosławski Foundations. Currently he is working on commissions from the Polish State and the Sinfonia Varsovia Orchestra as well as the Warsaw National Opera for season 2013/2014.
http://marcinstanczyk.com/
Comment

It is a great honour for me to have been invited for the final of the Toru Takemitsu Competition Award. It is a worldwide finest opportunity for composers and I am very happy to have participated in it.
I would like to thank warmly some persons who have made my stay here possible: first of all, to Mr. Wataru Taguchi, President and Mr. Shuichi Segawa, Managing Director of Tokyo Opera City Cultural Foundation, thank you for your committed support to this award. Then of course my thanks to Sir Harrison Birtwistle for his kind comments, listening to our music and final results.
I have one little story. I met once before Sir Harrison Birtwistle. Four years ago, I participated in an Aldeburgh Jerwood Programme for writing opera in the U.K. Sir Harrison was invited only for one afternoon just to listen and comment on 15 short etudes. His general most important advice was please don't make the music too complicated. So, I was not sure whether to participate in this competition this year because of the judge, but finally I am 35 now so it was my last chance to participate.
Sir Harrison Birtwistle said one more thing: try to recognize the difference between complicated and complex. I remember this advice as one of the most important for my musical thinking and my composition.
Furthermore, thank to the wonderful Tokyo Philharmonic Orchestra and the conductor Maestro Toshiyuki Kudo. I need to say that in spite of the demanding score, the conductor and all the musicians gave a wonderful performance of my music which was shown in the best possible conditions. I was also deeply impressed by the kindness and the cooperativeness of the musicians who from the first rehearsal wanted to play and listen to my explanations.
Last but not least, I want to say thank you to you all who came to listen to our music. We just write for you, and it is thanks to you that contemporary music is still alive. Finally it has been my first visit to Japan and I am moved by the cordial and generous welcome I have received. All these things have made my stay here an unforgettable experience. So thank you a lot and hope to meet you again.

2nd Prize
Sumio Kobayashi (Japan)

The Lark in Snow
Born in Mie, Japan in 1982. He received musical education, excelling with piano and composition, since 1985. He studied under Joji Yuasa and Hiroyuki Itoh. Received various prizes including the Music Competition of Japan, I.C.O.M.S. Concorso Internazionale di Composizione, Gyeongsangnam - do Special Prize at Isang Yun Prize, and International Composition Competition SYNTHERMIA. He was invited to festivals such as Takefu International Music Festival. He is writing for a wide variety of instruments and ensembles ranging from solo piano to large orchestra.
Comment

Firstly I would like to thank Maestro Toshiyuki Kudo and all the musicians of the orchestra. My music may be in a way easy to listen to, but actually it is very difficult to perform and for the orchestra players it was a huge burden. But they were very eager to play this music and express it as I wanted to.
This piece was first conceived for string orchestra because I wanted to write something after Toru Takemitsu's famous Requiem for Strings. I started this work in my late 20s, which was the same age as Toru Takemitsu when he wrote his Requiem. At the time, I was very concerned about my future, whether I could really become a composer, but I am now very happy that this work has been performed on the stage of the Toru Takemitsu Composition Award, which is a dream come true.
Lastly, thank you all for listening to my music.
3rd Prize
Huan Liu (China)

Zwei Landschaftsbilder
Born in Tangshan, China in 1983. She entered the music school attached Tiannjin Conservatory of Music to major in composition in 1999. She continued to study under Professor Qin Wenchen at Central Conservatory of Music (2002-2007 / Bachelor). In 2008, she entered at the University of Arts in Berlin-Germany (Diploma / Master), under Professor Walter Zimmermann. In 2010 – present, she got Meisterschülerin and continued her study under Professor Walter Zimmermann. Her works include chamber music, orchestra Music, film music and music for kids – which were performed and awarded in China, Holland, Germany and Egypt.
Comment

Thank you to Mr. President, Sir Harrison Birtwistle, Maestro Kudo and the members of the Tokyo Philharmonic Orchestra, Tokyo Opera City Cultural Foundation, Mr. Sawahashi and all the friends of modern classical music.
First of all, I want to underline that the fact I am here is one of the greatest honours of my life. I can remember when I first heard about the Toru Takemitsu Composition Award and ever since it has been my dream to participate in the competition and the dream came true today. We received great support for our work from everybody here and it has been a great experience. Thank you all for that.
This is my first time in Japan, and as a Chinese citizen, I would like to express that this award is a wonderful example that music has unlimited powers to connect different countries and different cultures irrespective of political tension, domestic issues or racism without any prejudice.
For me, music is like an island full of harmony and peace and everybody is welcome. Thank you again for the great time in Tokyo!
3rd Prize
Nana Kamiyama (Japan)

"CLOSE" to you to "OPEN"
Born in Gunma, Japan in 1986. She graduated from Tokyo College of Music, and took a master's degree in 2010. She won the 3rd prize at the Music Competition of Japan (2010). She became interested in music perception from a cognitive psychological perspective and has pursued experimental work through composition. Her work extends to the composition for traditional Japanese instruments and she currently studies Satsuma-biwa and Nagauta-shamisen. Her recent work includes AtrE for six Violas (2008) and "tOkyO" in the bOx for Orchestra (2010) among others. She studied composition under Reiko Arima, Akira Nishimura, and Toshio Hosokawa.
Comment

I am a little nervous because I am not very good at speaking in public. Firstly, I am hugely grateful that my work was performed and given real sound, and was listened to by many people. I would like to say a few words to you in the audience.
It is 15 years since I first wanted to become a composer and began my studies. I chose to stay in Tokyo to study music and maybe because of this and maybe partly my fault but I wasn't able to acquire a highly academic style. However, I have received a lot of support and stimulus from many teachers and friends, and I have been able to approach music in earnest.
I am very grateful about my circumstances and I am proud of it. If there is such thing as a God of music, he or she has given me an environment where I can continue to be passionate about music. I want to be a composer who can write music that will excite many people. I want people to feel about my music that even though they may not know why, they want to hear more. Perhaps the music I will write in the future will be very different from the music I used to adore, but now I ready to accept that. I want to follow my belief and will also continue to study to write better music.
Lastly, in the current difficult climate surrounding contemporary music in Japan, we composers are hugely grateful to the Tokyo Opera City Cultural Foundation for giving us this opportunity. Thank you also to Sir Harrison Birtwistle for choosing my work. Thank you also to all the musicians for their commitment to new music, and to the audience for their interest in our works, and I hope that I can show my gratitude through writing more music. Thank you very much.
Contact us
Tokyo Opera City Cultural Foundation
3-20-2 Nishi-Shinjuku, Shinjuku-ku, Tokyo 163-1403 JAPAN
Tel. +81 3 5353 0770
Fax.+81 3 5353 0771