Toru Takemitsu Composition Award
Results
Judge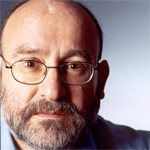 Final Concert
Friday 20 Jan 2012 | Tokyo Opera City Concert Hall : Takemitsu Memorial
Kazuki Yamada, conductor / Tokyo Philharmonic Orchestra
WINNERS
1st Prize

Florent Motsch-Etienne (France)
Flux et reflux Cash Award
1,200,000 yen
2nd Prize

Bernd Richard Deutsch (Austria)
subliminal Cash Award
800,000 yen
3rd Prize

Jan Erik Mikalsen (Norway)
Parts II Cash Award
600,000 yen
4th Prize

Heera Kim (Korea)
NAMOK Cash Award
400,000 yen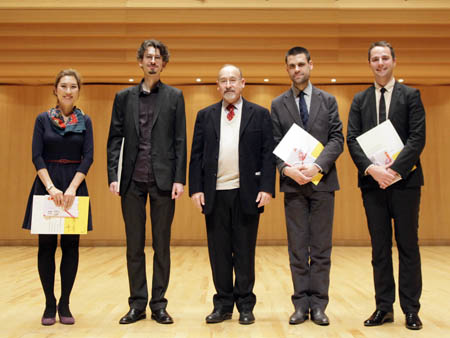 Comments by Salvatore Sciarrino, judge
This is a fantastic occasion for me. It's a solemn day, because this award is so well thought. Before you come, you think that it is well done, but when you are really here and have this experience, it is something very particular. It was for me, and must have been also for other composers.

I don't want to choose what can be similar to my music. I think that creative problems will not be solved from modernity or just by an updating of the language. The solution has to be found in the identity that each artist will reach, regardless of the means that are suggested by each artist in each piece. I think that traditional "Mittel" as well may reveal new perspectives. So, what I could choose was not more modern, but an identity that we can perceive and we can feel.

Now to the direct impressions after hearing these pieces performed in public:

Flux et reflux, by Florent Motsch-Etienne
Mastery of the orchestra. Magic of the sound. Joy of transformations. But at the same time the general form is very clear, and the evolution of the internal process of the composition flows naturally.

Parts II, by Jan Erik Mikalsen
Tempest of various musics. Articulations often become a dense and thick sound. Eloquent gestures and explosions, contradicted by openings on other dimensions, the non-temperate dimension and the dimension of far away sounds.

subliminal, by Bernd Richard Deutsch
An expert use of the orchestral masses. Usual and modern articulations coexist. Writing has been effectively simplified. Tempest of various musics also here: among others, shades of Mahler and Berg can be perceived.

NAMOK, by Heera Kim
Extremely simplified language. Intensification of contrasts among each section. Western models, Stravinsky in particular, dissolve into the rhythmic Korean tradition.

First prize to Florent Motsch-Etienne: Flux et reflux.
Second prize to Bernd Richard Deutsch: subliminal.
Third prize to Jan Erik Mikalsen: Parts II.
Fourth prize to Heera Kim: NAMOK.

Lastly, I would like to say two words. It is very important also for the composers that were not awarded the first prize, they have so big talent and the responsibility is very, very great – even more responsibility.

Then I must friendly say thank you to this fantastic orchestra that I know for some years, the Tokyo Philharmonic Orchestra, and for this concert Mr. Yamada, who was so important in the presentation of these pieces.
Thank you very much.
Prizewinners
1st Prize
Florent Motsch-Etienne (France)

Flux et reflux
Born in Paris, France, 1980. He studied at the Superior National Conservatory of Paris, where he obtained a Master's degree of Composition (class of Frédéric Durieux). He is a professor of the Conservatory of the VIIth district (Paris). He was awarded by the French Academy of Fine Arts (2007). He was a prize-winner of the International Rostrum of Composers (2008, by Unesco) and prize-winner of the competition Tactus (2008, Belgium). His works were played by Philharmonic Orchestra of the Luxembourg, Philharmonic Orchestra of Radio France, National Orchestra of Lille, and Orchestra of Caen. He is a member of the artistic section of the «Casa de Velazquez» (Academy of France in Madrid).
https://florentmotsch.com/
Comment

Ladies and gentlemen, it is a very great honour for me to have been invited for the Toru Takemitsu Composition Award. I am very happy to have participated in this competition and I would like to thank warmly some persons who are the origins of this generous meeting.
First of all, Mr. President, Mr. Wataru Taguchi: thank you sir for the committed support which you bring to this event. For a young composer to have a work for orchestra played is always a complex process and this competition serves as an integral place for us.

Then I would like to thank Mr. Salvatore Sciarrino, the jury of the competition of this year. The Toru Takemitsu Competition has had since its creation the greatest composers of our time. I am greatly honoured to have taken part in this exceptional musical event.
I am keen on thanking also Mr. Kazuki Yamada, conductor: thanks to his wonderful work, we were shown in the best possible condition. I am perfectly satisfied by his performance of my work.
Thank you also to the producers and managers: Mr. Shuichi Segawa, Mr. Tomiaki Amano, Mr. Tetsuki Kunishio and Mr. Jun Sawahashi. Thanks to their inestimable assistance, my stay here has been an unforgettable moment. I had never been to Japan till now, and I will keep excellent memories of this time.
Finally I would like to thank Mr. Eiji Arai and all the musicians of the Tokyo Philharmonic Orchestra. They supplied considerable work and knew perfectly all the requirements of my work. The success of this final concert is the result of their tremendous commitment.
To end, I would like to thank Toru Takemitsu Competition and the Tokyo Opera City. Let me say to you, doumo arigatou. Takemitsu-sho ga suenagaku tuzukimasuyouni (I hope that the Takemitsu Award will continue for many years to come).
2nd Prize
Bernd Richard Deutsch (Austria)

subliminal
Born in Mödling, Austria, 1977; currently resides in Vienna. From 1995 to 2003 he had studied composition at the University of Music and Performing Arts in Vienna with Erich Urbanner and Dieter Kaufmann, followed by master classes with Manuel Hidalgo and Boguslaw Schaeffer. He won several prizes and scholarships including the 2nd prize in the composition competition "Biennale Neue Musik Hannover" (1997) and the Ernst Krenek Prize (2002). Performances at the Biennale Neue Musik Hannover, ECLAT festival Stuttgart, Hörgänge, Klangspuren Schwaz, Wien Modern. Commissions by the ORF, the SWR Stuttgart, Staatstheater Stuttgart. His works have been performed by Arditti String Quartet, Marino Formenti, Rupert Huber, Johannes Kalitzke, Otto Katzameier, Mozarteum Orchester Salzburg, RSO Stuttgart.
http://www.berndrdeutsch.com/
Comment

Dear Mr President, dear members of the Tokyo Opera City Cultural Foundation, dear Maestro Sciarrino, ladies and gentlemen, you see me deeply honoured and moved to be here with you in this wonderful concert hall receiving this award.
It was the first time that we came to Japan and from the arrival last Sunday, we were deeply impressed by the cordial and generous welcome. The Toru Takemitsu Award is a worldwide unique opportunity for young composers, and I am very honoured that Maestro Sciarrino was the judge in this competition. Thank you very much for all.
I want to thank the Tokyo Opera City Cultural Foundation for its strong signal for contemporary music. Thank you for the encouragement you gave us to go on with our work. Fortunately this award was associated with a performance and I am very glad that the wonderful Tokyo Philharmonic under the energetic direction of Maestro Yamada was here with us. I was deeply impressed by the kindness and the cooperativeness of these wonderful musicians. Finally, I hope I will come back to Japan again and I really hope to have then more time to get to know this fascinating city and your wonderful country. Thank you very much and doumo arigatou.
3rd Prize
Jan Erik Mikalsen (Norway)

Parts II
Born in Kristiansund, Norway, 1979. He studied at the Grieg Academy in Bergen, Norway and at the Royal Danish Music Academy in Copenhagen, Denmark. He had pieces commissioned and performed by a number of orchestras and ensembles, including world premieres by the Bergen Philharmonic Orchestra. In 2006 he released the CD performed by the Norwegian Radio Orchestra with three other Norwegian composers. His works has been played at festivals such as Presencés Festival, Ultima Festival, Pablo Casals Festival, Casa da Musica, UNM, Nordic Music Days and Momentum Nordic festival. Recent projects include Clarinet Concerto commissioned by Björn Nyman and the Norwegian Radio Orchestra world premiered in 2010 at the Oslo opera house, and a new commission by Bodø Sinfonietta (world premiere 2012).
http://www.janerikmikalsen.no/
Comment

I don't have so much to say, but I want to say that it has been a dream to visit Tokyo and Japan since I was a little boy, and I am very glad it happened with this occasion and be selected by Maestro Sciarrino. It has been a fantastic week with the orchestra and I am sad that I have to leave tomorrow to boring Norway, but I am coming back, I can assure you that, sooner rather than later. I have to thank Tokyo Opera City Cultural Foundation, Mr President, the conductor Mr. Yamada, Maestro Sciarrino and my fellow composers – it has been great meeting you and I hope we can keep in touch. And last, of course, to you the audience, doumo arigatou gozaimasu!
4th Prize
Heera Kim (Korea)

NAMOK
Born in Seoul, Korea,1976. She studied composition and theory in Kyung-Hee university in Seoul, afterwards with Prof. York Hoeller(composition), Prof. Hans Ulrich Humpert(electronic composition) at college of music Cologne and Prof. Wolfgnag Rihm at college of music Karlsruhe. She received various prize in international competitions including "Forum Ost&West Prize" (2001, Germany), composition competition of ensemble for new music (2007, Switzerland), BMW composition prize of Musica Viva (2007, Germany), Günter Bialas composition competition (2008, Germany) and Berliner Opernpreis (2010, Germany). Recently music theatre piece "der Unfall" was premiered by Neuköllner Oper Berlin and Seoul Philharmonic Orchestra premiered her new ensemble piece, conducted by Pascal Rophé (2010).
Comment

Hello everybody. Firstly thank you to Mr. President and to the members of the Tokyo Opera City Cultural Foundation. It is an honour and the prize means a lot to me. The organization made me feel comfortable in Tokyo. Then of course, my thanks to Mr. Salvatore Sciarrino. Not only did he give me the prize but he listened to our music and attended the rehearsals. It was a real honour to me. Thank you so much. Next thanks go to the orchestra and the conductor Mr. Yamada, who this evening made a great, wonderful interpretation of my music, so thank you. Of course there are a lot of names in my head – just to mention my family and friends who really supported me as a composer. Thank you. At the end, I want to say thank you to the audience – without the audience we composers and musicians don't exist. Thank you and please keep visiting concerts and having interest in contemporary music. Arigatou gozaimasu.
Contact us
Tokyo Opera City Cultural Foundation
3-20-2 Nishi-Shinjuku, Shinjuku-ku, Tokyo 163-1403 JAPAN
Tel. +81 3 5353 0770
Fax.+81 3 5353 0771