Composition of the exhibition

Kayo Ume's work is wide-ranging, encompassing everything from street snaps to portraits of family members and close neighbors. For this exhibition we have selected from among this vast number of photographs, whose total is growing daily, approximately 570 works, including some that have not been published before, and present them in six sections.
1. Shutter Chance Part 1
Street snaps are an important component of Kayo Ume's art practice. Rather than dwell on composition, printing, and other means of increasing the level of perfection of her photographs as "artworks," she concerns herself more with seeking out surprising moments that occur daily as part of everyday life with the aim of "reporting" them. The things she focuses on are unique in the extreme, and her ability to capture not only the seemingly insignificant accidents that occur as part of everyday life but also the accompanying humor, surprise, fear, and sympathy is unrivalled. The resultant images, too, seem to possess a special quality that lingers mysteriously in our hearts.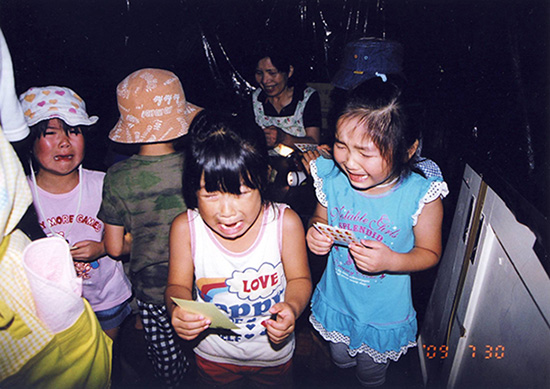 From Umep 2009 © KAYO UME
2. Junior High School Girls
This is the first public showing in some ten years of these early works featuring local junior high school girls Kayo Ume befriended while at college and invited to her dormitory room where she photographed them. Ume, who was still in the midst of youth at the time, and her adolescent subjects shared a curiosity about sex, and this is expressed in the anarchic, carefree manner in which they play up to the camera. As suggested by Ume's comment, "I was able to take them because I was a teenager myself," the photographs are at once a monument to the photographer's youth and a clue to tracing her unfamiliar origins. Of particular interest is the fact that one can already detect in these photographs Ume's method of producing work based on communication with familiar others.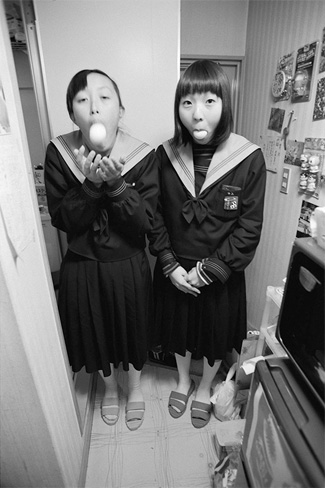 From Junior High School Girls 2000-2001 © KAYO UME
3. Noto
Kayo Ume was born in Yanagida-mura (present-day Noto-cho) in Ishikawa prefecture. From the time she started taking photographs while in high school to the present she has moved around the country, including stints in Osaka and Tokyo, but throughout this period she has continued to photograph people in her home province. In recent years in particular she has directed a steadfast gaze towards students at her alma mater, close neighbors, and locals she meets regularly, giving rise to countless captivating portraits. The results depict the characteristics of the region and of the people who live there, characteristics summed up by the popular saying, "Noto is kind, even down to the land," as if carried on an invigorating breeze under clear light. A new photo book featuring work from this series is scheduled to be published to coincide with this exhibition, although the selection of works in the exhibition differs from that in the photo book, offering a glimpse at the new territory Kayo Ume is exploring.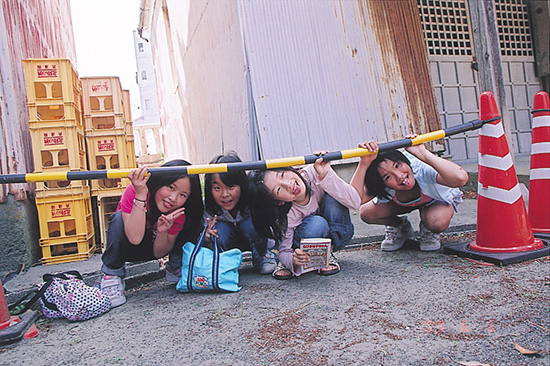 From Noto 2009 © KAYO UME
4. Long Live Grandpa!
For more than a decade, Ume has been photographing those closest to her, including her grandfather and grandmother, her younger sister, and her dog. According to Ume, this started when she was still in high school, when one day she thought, "As long as I'm photographing my grandpa he won't die." In this one can glimpse Ume's approach of persisting in taking matter-of-factly yet with affection photo after photo of seemingly normal everyday life. Of course, these photographs also demonstrate clearly both Ume's unique point of view, which enables her to capture with perfect timing moments of laughter, surprise, and so on, and the special relationship she has with her subjects. This series, which emanated from communication of an extremely personal nature and grew into something universal with which anyone can indentify, evoked a massive response when it was published in 2008 as the photo book Long Live Grandpa! Here we include new photos that bring the series up to the present, giving rise to a succession of images that offer fresh insights into the daily lives of the subjects as well as the passage of time.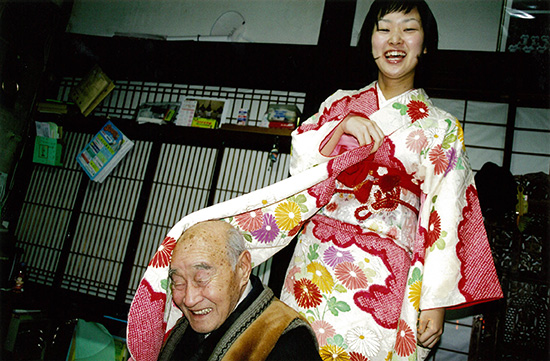 From Long Live Grandpa! 2007 © KAYO UME
5. Danshi
In this series, Ume paints a lively picture of the "foolish, invincible" energy of a group of elementary school students she befriended on the street while attending college in Osaka. For their part, these boys, who came to idolize Ume, play up wildly to the camera with no concern for what others may think. Having said that, one gets a real sense from the photographs of the secret desire of the subjects, having befriended Kayo Ume, to be looked at and photographed by her, as well as the joy this brings them. Maintaining a consummate distance between herself and her subjects while at the same time empathizing with them, she gives free rein to her level-headed ability to judge what makes a good photograph in capturing vividly the unique emotions and subtleties of the heart peculiar to boys of a particular age. One could also describe the results as a collection of miraculous images born out of the "collaboration" between Ume and her subjects.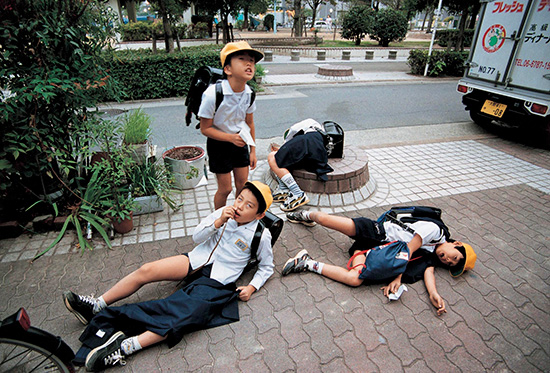 From Danshi 2000-2002 © KAYO UME
6. Shutter Chance Part 2
We end the exhibition with another carefully chosen selection of the myriad street snaps that form the basis of Ume's art practice. Ume's work is often discussed from the standpoint of "laughter," but Ume does not take photographs with the aim of making people laugh; rather, according to the artist herself, her intention is simply to seek out moments that "startle" her. It is also said that she has no concern for composition, yet in many cases it seems as if Ume's own animalistic corporeality in resolutely pursuing her subjects is communicated directly through the framing of her photographs. In her presentation of scenes that are not normally the subject of photographs and her unique sense of timing, too, one can sense her unique ability to appeal to the imagination of the viewer, which is different from the ability to simply explain a set of circumstances. Not only does this encourage us to look at various aspects of everyday life in a new way, but it also gives us a renewed sense of the mysteriousness and unlimited potential of photography.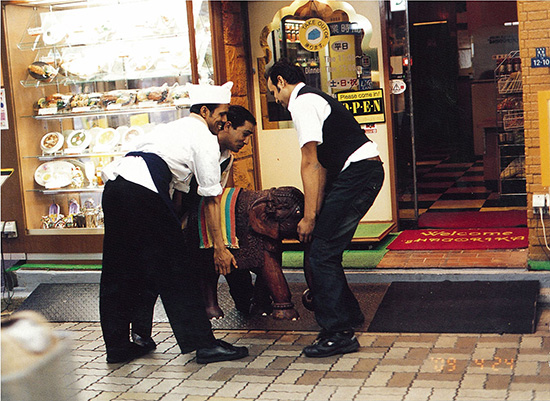 From Umep 2009 © KAYO UME