展覧会について
Exhibition
White Day ─ A system of love, gratitude, and ritual
In Japan, men receive chocolate on Valentine's Day, and one month later, on March 14, which is called White Day, they give a present in return. The Japanese version of Valentine's Day is said to have originally been established as a commercial scheme created by confectionery companies who imported and transformed the Western custom in order to promote sales. Combined with White Day, which goes one step further and makes a return gift part of the ritual, it is a brilliant system that links personal emotion with consumption. Simon Fujiwara shines a light on systems that we unconsciously accept in our daily lives, and reveals that various intentions, backgrounds, and sometimes ulterior motives lurk below the surface. This raises the question of how these systems that are entrenched throughout society relate to our happiness.
A factory production line in an art museum ─ Questioning modern-day happiness
Fujiwara's works are wide-ranging. In Rebekkah, Fujiwara fills the exhibit space with about 100 statues cast in the image of a girl who participated in the 2011 London riots, and as part of a resocialisation programme was taken to see a factory that produces flat screen TVs. For Lactose Intolerance, Fujiwara commissioned paintings of milk from an art studio in a country where most people have never drunk or even seen fresh milk. In his theatrical installations, The Mirror Stage and Rehearsal for a Reunion, he mixes his own personal history and that of his family with fiction. And, for this exhibition, Fabulous Beasts features a production line in which fur coats that were once sold as luxury items are shaved, revealing the patchwork of skins beneath.

Fujiwara's works, which are based on meticulously fabricated narratives, are loquacious and continually stimulate our interest and curiosity. However, surprisingly, no definite conclusions are evident. Giving each viewer a different impression as it does, his work might be a sort of mirror for the viewer to look inwards and re-examine the true nature of things. His art presents us with a question: Is what we have believed in up until now the absolute truth?
Beauty of complexity that defies categorisation as correct or incorrect
The sensation that Fujiwara's work gives us comes at the moment an 'obvious' premise is dismantled. In today's connected, consumer society, the 'correctness' of the rational is seen as being just. However, at a time when people think the system is functioning rationally, it is all the more important to query its origins and ask whether it might contain remnants of something that we forgot.

Inspired by the context of Tokyo Opera City Art Gallery having organised the "Zaha Hadid" exhibition in autumn of 2014 before Hadid's plans for the new Olympic stadium were scrapped, Fujiwara has employed his unique techniques to create a new work imbued with humour and love to address this topic. It reveals social complexities and human emotions that defy categorisation as correct or incorrect - demonstrating the power of art to express such complexities and emotions without distortion.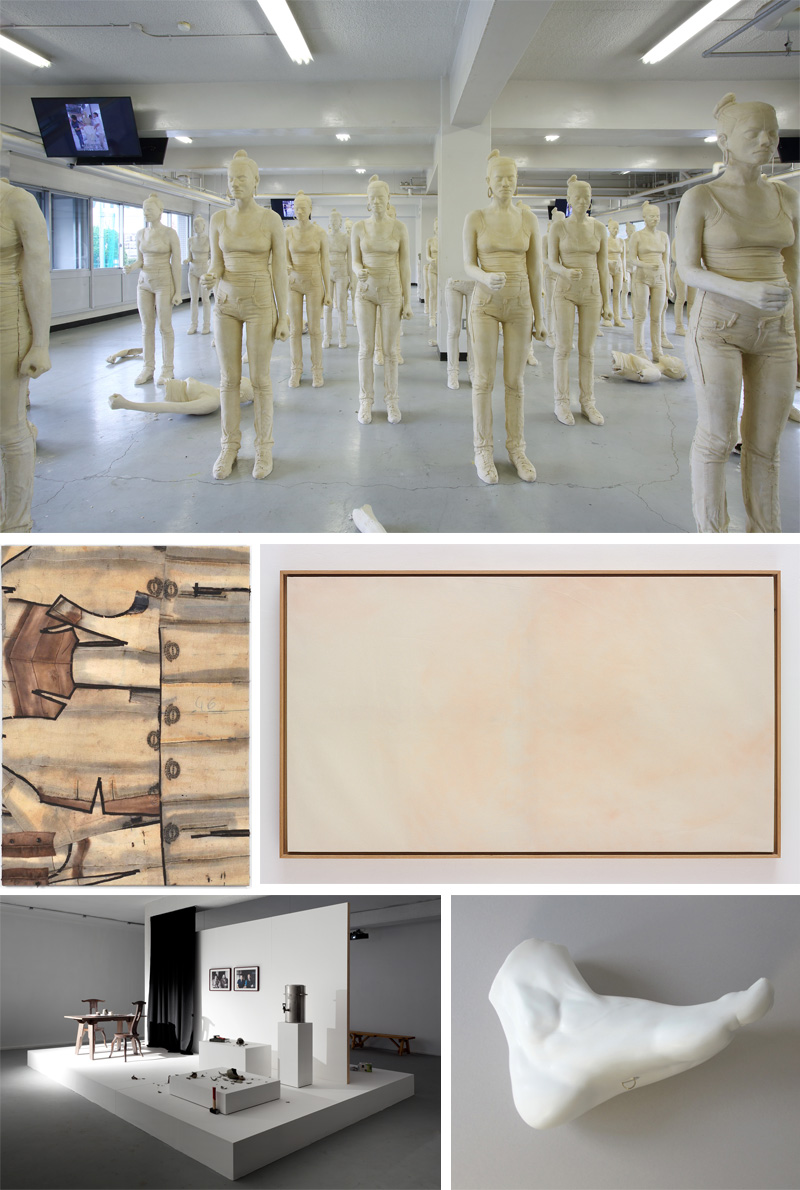 Rebekkah
2012
Ishikawa Collection, Okayama
exhibition view imagineering, 2014
photo: Koji Ishii
courtesy of the artist and TARO NASU
Fabulous Beasts
2015
courtesy of Marian Goodman Gallery, Paris
courtesy of the artist and TARO NASU
Masks (Merkel)
2015
courtesy of Dvir Gallery
courtesy of the artist and TARO NASU
Rehearsal for a Reunion (with the Father of Pottery)
2011/2013
Ishikawa Collection, Okayama
courtesy of Dvir Gallery
courtesy of the artist and TARO NASU
Modern Marriage
2015
courtesy of the artist and TARO NASU