Toru Takemitsu Composition Award
Results
Judge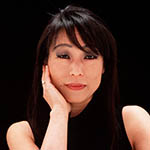 Final Concert
Sunday 27 May 2018 | Tokyo Opera City Concert Hall : Takemitsu Memorial
Yoichi Sugiyama, conductor / Tokyo Philharmonic Orchestra
WINNERS
1st Prize

Barnaby Martin (UK)
Quanta for Large orchestra Cash Award
1,000,000 yen

Paulo Brito (Brazil/USA)
STARING WEI JIE TO DEATH
- Symphonic Evocation based on an Episode from Chinese Antiquity for orchestra Cash Award
800,000 yen
2nd Prize

Lukas Hövelmann-Köper (Germany)
Quantum Vacuum for orchestra Cash Award
600,000 yen

Bo Li (China)
SLEEPING IN THE WIND for orchestra Cash Award
600,000 yen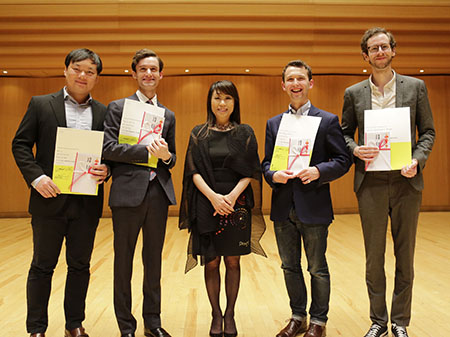 Comments by Unsuk Chin, judge
Good afternoon, Ladies and Gentlemen. Welcome to the 2018 Toru Takemitsu Composition Award ceremony. I am Unsuk Chin and it is my honour to serve as this year's judge.

Toru Takemitsu was a giant of 20th century music. His works continue to have great eminence for composers, musicians and audiences around the world. Toru Takemitsu built bridges between East and West like no other. His music truly knows no borders. It is then of enormous symbolic significance that this wonderful international competition carries his name. Ever since its creation, Toru Takemitsu Composition Award has helped a number of excellent composers to be discovered and it continues to have a profound influence on young composers and on the development of the music of today.

For this year's edition, 143 scores were submitted from 40 countries. Many of these were highly interesting, and it was a hard task to decide on the finalists. The following criteria were important for me: a strong sense of structure and form, craftsmanship, personality, distinct ideas, clarity of style, and the capability of writing for a symphony orchestra. In the end, I chose four works which seemed especially imaginative and accomplished. Beside, I was keen to make sure that all four scores would be different from each other and that the selection would result in an interesting concert programme.

Before announcing the prizewinners, I would like to say a few comments on each piece in entry order.

Quanta by Barnaby Martin
Here we have a very open-minded composer, who has studied natural sciences and early music, and who uses a number of different compositional approaches. The result is strongly his own and one is struck about the refined use of harmonies and the ability to command and develop complex structures, as well as the use of orchestral colours.

Quantum Vacuum by Lukas Hövermann-Köper
This work reflects a strong will and the great courage to create new musical world. Each single tone has great intensity and is being featured as its own universe. At the same time, all these single tones grow into a dense texture of enormous energy. The composer does not care about traditional musical parameters; the form is being created by different degrees of density.

SLEEPING IN THE WIND by Bo Li
This is very musical, vivid and idiomatic orchestral music with great contrasts and a developed sense of dramatic line. It has an immediate visual impact, the composer has a keen ear and full control over what he writes. The use of the orchestra is imaginative, both in terms of details and the macroscopic dimension.

STARING WEI JIE TO DEATH by Paulo Brito
This work consist of four very different movements. I am struck about its compactness: there is no unnecessary information, everything has been finely tuned. At the same time, however, the music is highly expressive and each movement brings something new. Despite the texture being condensed, the composer succeeds in taking full advantage of the potential of a symphony orchestra.

Now I will announce the prizewinners of the 2018 Toru Takemitsu Composition Award.

The third prize will not be awarded.

The second prize will be awarded to Quantum Vacuum by Lukas Hövermann-Köper and SLEEPING IN THE WIND by Bo Li. Each composer will receive an honorarium of ¥600,000.

The first prize will be award to STARING WEI JIE TO DEATH by Paulo Brito and Quanta by Barnaby Martin. Mr. Paulo Brito will receive ¥800,000 and Mr. Barnaby Martin will receive ¥1,000,000.

I wish this remarkable competition and all the prizewinners all the very best for their future, and would like to thank the Tokyo Opera City Cultural Foundation for their hospitality and wonderful organization. Thank you very much.
Prizewinners
1st Prize
Barnaby Martin (UK)

Quanta
for Large orchestra
Born in Norfolk, UK in 1991. He is a graduate from Trinity College, Cambridge whose music has been performed across the UK and internationally by amateur and professional groups alike. Success in competitions has led to a variety of performance of his music by ensembles such as the Orchestra of Opera North, St Paul's Cathedral Choir, the Berkeley Ensemble, the Psappha ensemble and the Ligeti Quartet. In 2017, his 45-minute cantata, The Temptations of Christ, was premiered by Illuminare choir and soloists conducted by Christopher Stark. This particular piece has been nominated in the choral category of the 2017 BASCA British Composer Awards, the results of which will be announced in December 2017.
https://www.barnabymartin.com/
Comment

I would like to start by thanking the President and members of the Tokyo Opera City Cultural Foundation. It is such an enormous privilege to be here, and it has been the most exciting week of music making of my life.
To be given the opportunity as a young composer to have your work performed by such an outstanding orchestra is one that is incredibly rare. So I would like to thank all the musicians of the Tokyo Philharmonic Orchestra and especially Yoichi Sugiyama for performing my piece so astonishingly well.
Although it takes a vast amount of time, effort and thought to create such a long orchestral piece, I truly believe that the work is only alive once it's been performed, and I couldn't have asked for a better setting for this performance in this astonishing concert hall. I will certainly never forget this experience.
Thank you so much to Unsuk Chin, for selecting Quanta to be part of this competition. I have been a huge admirer of your music for many years, and I can't express how exciting and humbling it was to find out that you had chosen my work. Thank you providing such incredibly useful advice, insight and help. I've learnt so much and it's been a privilege to meet you.
It has been such a pleasure to meet the other finalists, Lukas, Bo and Paulo. It has been a joy to hear your music, and to learn from your different approaches and techniques.
Finally thank you to Mr. Jun Sawahashi, without whom this week would never have happened. Thank you for your meticulous organization and for looking after us so well. It has been such a pleasure to be here this week. Thank you all very, very much.
1st Prize
Paulo Brito (Brazil/USA)

STARING WEI JIE TO DEATH
-

Symphonic Evocation based on an Episode from Chinese Antiquity for orchestra
Born in Rio de Janeiro, Brazil in 1987. He is composer and pianist. He grew up in the United States, and has also lived in France and Ukraine. His musical training and liberal arts education have taken him to Kiev, Paris, New York, Chicago, and Toronto. Holding a B.A. in Classics from Columbia University and M.A. in Comparative Literature from the University of Chicago, he is currently pursuing a D.M.A. in Composition at the University of Toronto. His path has always been interdisciplinary, and, as a composer, he is drawn to opera as the most intricately cross-disciplinary art-form. In his own projects, he unites different artistic disciplines as well as different cultural traditions, informed by his interest in Chinese music and theater.

Comment

The honour is tremendous, and I will probably realize it more after than today. Right now, my strongest feeling is of sincerest thanks and deepest gratitude which I owe to Ms. Unsuk Chin and the Tokyo Opera City Cultural Foundation for allowing me the most significant opportunity of my career as a composer so far. It is impossible to express the full extent of my appreciation in the time allotted. So for now, I will have to say my thanks in the fewest possible words.
First, to Ms. Unsuk Chin for selecting my piece for the final among what I'm sure were many equally competitive scores, and for conveying to me during the rehearsal process not only the merits she sees in the piece but also how not to obscure them. This is not only invaluable professional advice; from a composer of her stature it is truly generous encouragement.
Second, to the Tokyo Opera City Cultural Foundation for holding this annual event to promote new orchestral works of young composers. This event is absolutely unparalleled in its scale and in the generosity of resources provided to the finalists. At the same time, I would like to thank producer Mr. Jun Sawahashi for the incredible management of this complex event and his evident willingness to make the entire experience for the finalists the best it can be.
My thanks are also extremely due to Maestro Yoichi Sugiyama who struck me from the first day with his dedicated understanding of my piece, as well as to the Tokyo Philharmonic Orchestra for the hard work they put in to something that on the surface looks simple but posed many small difficulties for them, which they mastered completely.
Finally, to my fellow finalists, I have truly admired the works you brought in and have learnt from them particularly as I watched them come together during the rehearsal process. There is so much more I want to say, but I must conclude simply by saying once again, thank you from the bottom of my heart.
2nd Prize
Lukas Hövelmann-Köper (Germany)

Quantum Vacuum
for orchestra
Born in Kassel, Germany in 1989. He has been an active musician since his 16 years of age and a autodidact composer since 2013. He won many prizes, most recently the international "Indonesia Orchestra and Ensemble Prize" for his first orchestral piece "Aku Mau Hidup Seibu Tahun Lagi". He received piano lessons from Uwe Volkmer, guitar and composition lessons with Jürgen Fromm. He also participated in various composing courses, held by composer Prof. Brice Pauset, Prof. Diego Feinstein and Cornelius Schwehr. In February 2017 the musical theater "Hans im Glück", based on the fragment of Bertolt Brecht, was premiered at the Klosterbühne Wennigsen. In March 2017, he received a composition commission for a double wind quintet from the NAFA (Nanyang Academy of Fine Arts) in Singapore, which will be premiered in the summer 2018. In April 2017, he was selected for the internationally renowned "Swatch Art Peace Hotel" artist residency, which includes a six-month stay in Shanghai.
http://hoevelmann-koeper.com/
Comment

I am very glad to be here today and I feel very fortunate to be able to listen to my piece being played by this fantastic orchestra in this astonishing concert hall. For me, now being part of that long history of that award is something very special, mostly because as well as Toru Takemitsu, the music of Ms. Unsuk Chin had a big impact on my approach on contemporary classical music. By initializing this unique award, Takemitsu offers young composers to work together with one of the best orchestras in the world. In current times when the audience's attention for contemporary composers seem to constantly decrease, as well as the opportunities for young composers to be played in public, this award is more important than ever.
Finally I want to thank Ms. Unsuk Chin, Mr. Jun Sawahashi and all members of the Tokyo Opera City Cultural Foundation for giving me this wonderful experience. I feel very fortunate to be a part of this wonderful group of finalists, and I am very thankful that I have been able to get to know these very talented and kind composers. Of course I want to thank the Tokyo Philharmonic Orchestra and Maestro Yoichi Sugiyama. This piece demands a lot from every musician in the orchestra in order to become alive. And special thanks goes to Ms. Hiromi Nakashima who had the tremendous challenge to make a readable score out of the mass of voices I have been using.
2nd Prize
Bo Li (China)

SLEEPING IN THE WIND
for orchestra
Born in Jilin, China in 1988. He is an accomplished composer who has gained extensive recognition for his work through success in several international competitions and music festivals. He is currently pursuing his D.M.A. in the University of Missouri-Kansas City in the U.S.A. In 2017 he was appointed a member of the Executive Board of the China Traditional Instrumental Orchestra Music Society in Beijing. 'Wen Hua' Gold prize 2011 by ministry of culture of the people's republic of China; Prizes include: the Paul Hindemith Prize 2012; First prize at the 'Con Tempo' international composition competition 2012; First prize at the 2017 Dr. Gerald Kemner Orchestra Composition Competition; Excellent Composition Award of 2017 Music From China International Composition Prize. His score "Mondlicht-Stadtmaur-Prosadichtung" chamber music for eleven instruments was published by Sikorski Music Publishers, Germany.
Comment

It is my honor to receive this award. Toru Takemitsu Award is my dream when I began to learn composing, and today, the dream comes true.
Thank you to Tokyo Opera City Cultural Foundation. Thank you to Unsuk Chin. For me, your masterpieces open a window to see the new music world, and your comments and suggestions are extremely important.
Thanks to Tokyo Philharmonic Orchestra and Yoichi Sugiyama, because of your fabulous work, my composition was performed so well tonight, and I also learned a lot from you. Thank you to the other three young composers, it is my pleasure to be acquainted with you, and I really enjoyed each of your pieces.
About my composition, SLEEPING IN THE WIND, it describes a bird without feet. This bird cannot relax on the ground or tree, because it has no feet. I want to use this story to reflect human nature.
Finally, thanks for my school, Central Conservatory of Music in Beijing and the University of Missouri at Kansas City. Thanks to my composition professor Tang Jianping, Chen Yi and Zhou Long. Thanks for my family. Thank you all, this is a wonderful night for me, for you, and for the music.
Contact us
Tokyo Opera City Cultural Foundation
3-20-2 Nishi-Shinjuku, Shinjuku-ku, Tokyo 163-1403 JAPAN
Tel. +81 3 5353 0770
Fax.+81 3 5353 0771