Toru Takemitsu Composition Award
Results
Judge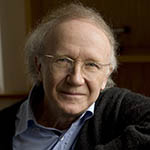 Final Concert
Sunday 28 May 2017 | Tokyo Opera City Concert Hall : Takemitsu Memorial
Kah Chun Wong, conductor / Tokyo Philharmonic Orchestra
WINNERS
1st Prize

Naoki Sakata (Japan)
Paysages entrelacés pour orchestre Cash Award
900,000 yen
2nd Prize

Zihua Tan (Malaysia)
at the still point for orchestra Cash Award
700,000 yen

Annachiara Gedda (Italy)
NOWHERE for orchestra Cash Award
700,000 yen

Stefan Beyer (Germany)
Ich habe nie Menschenfleisch gegessen for orchestra Cash Award
700,000 yen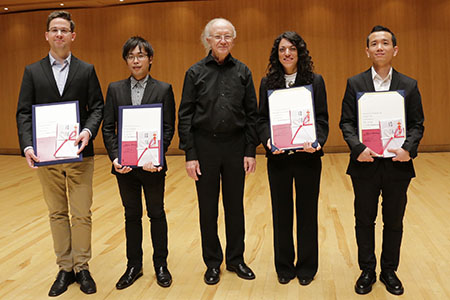 Comments by Heinz Holliger, judge
Good afternoon. As I have already mentioned in my commentary which is printed in the program, it is not an easy task for a single composer to judge 115 colleagues of his, and to try to be fair, to try to be severe, but also to accept music which is very different to the music oneself writes. This was Toru Takemitsu's idea that there is only one judge. Also now on the balcony I felt a little bit like a Roman Emperor in Circus Maximus who gave a thumbs down when it's a death sentence and a thumbs up when it's survival. It's quite a charging task.

I also mentioned in my preface what is for me a little bit different. For instance, in those 115 scores, I missed very much a rich variety of rhythmic life – like the breathing of the body or the heartbeat. I heard very much just time beating, time like clockwork. For me, I'm sort of a pupil of Bartók – my teacher was a pupil of Bartók, so Bartók is a grandfather to me – and there the rhythm is something which is completely physical. For me, the music is very physical, and it's also a language, but a meta-language which starts when the words end – you start with the music. This is a thing which I had problems to find in many of the scores.

I think in modern writing for a composer, you have a computer, not every note you write comes from your heart, through your arm and to the fingers into a pen like an old monk in Zen Buddist temple. It's not any more a physical action to write. You have the computer, you tap and you can also find repeat patterns which gives a very different character to the music, and also a character which is very far from the human speech, which has so enormous variety of pitch, bending of rhythms. You see this when you see Janáček or Bartók, how they transcribed folk songs. It's very, very complex in rhythm, rhythms that you never could imagine and machines can't imagine. I hope very much that the composers do not fall in the trap of modern media, and try to keep the music as a meta-language and a thing which is really of great transcendence.

With music, Orpheus is the only human being who could step over the limit of life and death. Because he was a musician, he could go to take Euridice back. But as he couldn't stop reflecting, Euridice disappeared again – because he wanted to see if she was behind. This is the greatest need about music existing. For me, music has very much to do with the beyond, much more than all the other arts, because it has no direct words any more. The words are already silent, and the sound starts. Also, the first thing we hear in life, or even before birth is the sound of the voice of the mother, the rhythm of the heart of the mother. Those are very differentiated acoustical things which define our unconsciousness. We have to keep this when we compose. We shouldn't give away any of these treasures.

I have chosen those four pieces also because every one of those pieces reveals another side of mystery. Mystery is omnipresent in all the four pieces. It is what attracted me probably first in these pieces.

Zihua Tan's at the still point, which refers to one of the most famous poems of modern poetry by T.S. Eliot, is a revelation of dreamlike landscape, even of a desert where no plant is left, no sound is left, and just layers of mysterious noises travel around the orchestra. Sometimes one hears a single sound. And Zihua Tan leads the audience into a very personal and very mysterious world. This is what impressed me.

Annachiara Gedda's NOWHERE is probably more familiar to my way of feeling music. It's also the piece which has the greatest flexibility in tempos, in declamation rhythms, has very clear elaboration of the real harmonic language, real harmonic structure of the piece, and this attracted me. It's a little bit close to the idea which is now named "Klangrede" (Harnoncourt), a term which is applied to C.P.E. Bach's Sturm und Drang music or early Haydn, where the music shows all the passions immediately of the body and soul. It's very close to the speaking, as if the music would speak itself – but in a mysterious language which has no words.

Naoki Sakata's Paysages entrelacés, for me shows best compositional technique, best old term of "métier". He really achieves to find exactly a way of going from breath/noise to sound and backwards. Every acoustical event comes from somewhere and goes somewhere. It's never just a material which is quoted and put at a certain point. It's not anecdotic. Every acoustical element shifts always between the beginning of a sound where there is only breath, and the vibrated breath which is the sound, also of the dying away of the sound.
On top of it, he has certainly the best acoustical control – the best musical ear. It's a fantastically orchestrated and very brilliant piece and I could not find many flaws in it. First I didn't know the names of the composers, and I was sure this was a French composer, but at least I was a little right because he studied in Paris, and I think he is very influenced by French culture.

I have chosen Stefan Beyer's Ich habe nie Menschenfleisch gegessen because it's completely the opposite of all the other 114 scores. It's a way of speaking in music (of musical speaking) but to refuse every ornamental side of the music making, and also free side of the music making. It's a very sinister work, very dark music. But especially when you hear it from my actual place in the centre, it is full of fascinating mixtures of sound. In this refusal, it has a lot of positive, even human elements. It's not a music of negation. At least, when God doesn't exist, one can't negate God – it's the same thing in music. I discovered a lot of really fascinating sounds – or events I could say in a modern sense – how he mixes the resonance of plate bells (Plattenglocken) with low instruments, how he turns the string orchestra into an enormous orchestra of koto players who are completely percussive, music where all the notes are strangled and no breath to be born. It has also nearly hurting expression that time goes, goes, goes, goes on and you can't take it back. It's a little like Edgar Allan Poe's novel The Pit and the Pendulum. This pendulum goes over your body, and comes always nearer, nearer, nearer, or like Kafka's In der Strafkolonie or Der Bau. You try to find a way out of a labyrinth but you never come out.
And if Stefan would have written only acoustical material with all the techniques which are practically known since several years, he would have produced anecdotic and static things. But his capability of mixing the timbres, and also of expressing things which goes beyond normal music-making – I thought of a funeral ceremony, of La lugubre gondola by Liszt – this sinister character of mourning is present and that's why the piece is also impressive. Even in the negation of all the brilliance, of nice mixtures of sound.

What I deplore a little bit is that all composers have chosen the very big orchestra. It would be so nice if in the next competitions one gives a limit of the minimum number of musicians (maybe 16-18) and the maximum, because I think the composer comes to very different ideas when you have a little ensemble, and can go much more unusual ways in the music. Also can achieve a much more flexible music. In all the scores it was an abundance of long notes, held notes, and harmonically lots of clusters. It could be so much more differentiated with fewer instruments. But this is only a suggestion for the next time.

What I miss also is that today all the composers have books about modern technique and unusual instruments. A lot of the used techniques I thought are not really "lived" by the composers here. Every composer should try to feel the instrument physically, and know exactly the dynamic which a high note on a harp can release against a big orchestra, or what a sizzle effect on a tam tam is exactly. Very often, one takes all the multiphonics in the wind instruments or all the techniques on the strings like a recipe for a cook who has a book and takes a little bit of this and this, and my dish will be great. I would dream that people economize much more in the material side of music making. It's not a huge mountain of material here on stage. Every piece is different. Assembling of material. This is the rule of all great art – never to write one note too many. Everything one writes is absolutely essential. Think of all the great composers of the past. You couldn't change a single note in a score of Mozart without destroying it. You couldn't change a single note in Bach. Or you couldn't change it even in modern music, in Anton Webern's score, which is like a crystal or flower. It's just perfect as nature. I dream of such things also to hear from young composers.

I stretch your patience, but the prizes will arrive in a minute. But before, I really want to thank you very much to the Tokyo Philharmonic Orchestra who did an absolutely great job in realizing those four scores where a lot of new techniques appeared they didn't know before. They did everything with great engagement, great passion and also with professionality. Especially, the conductor Kah Chun Wong did an absolutely great job in a very short time. He achieved to lead all the musicians through those complex labyrinths of the pieces, and even the musicians liked to work with him. This is the best thing a conductor can achieve, that he doesn't have the musicians against him. Great thank you to Kah Chun Wong and to the Tokyo Philharmonic Orchestra.

Now to the most important thing apparently, although for me it's not the most important thing. For me, the most important thing is that all those who took part in the competition had a chance to learn a lot and experienced a lot with a great orchestra, to really test their own capabilities and their personalities together with four competitors.

Now the prize: as a judge I would liked to have had 3 or 4 members of the jury to discuss, but what I feel to be fair and good and inspiring for all the composers is to give the first prize to Naoki Sakata and three second prizes – without any numbering within the three – to the others, Zihua Tan, Annachiara Gedda, and Stefan Beyer.

I thank you very much that you have been so cooperative and among the four composers you have been like a little family, without any competition like in sport. I hope everybody goes home with a rich package of new experiences and inspirations. I wish you all the best for your next compositions.
Contact us
Tokyo Opera City Cultural Foundation
3-20-2 Nishi-Shinjuku, Shinjuku-ku, Tokyo 163-1403 JAPAN
Tel. +81 3 5353 0770
Fax.+81 3 5353 0771