Toru Takemitsu Composition Award
Results
Judge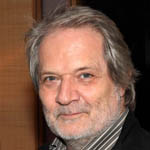 Final Concert
Sunday 25 May 2014 | Tokyo Opera City Concert Hall : Takemitsu Memorial
Yoichi Sugiyama, conductor / Tokyo Philharmonic Orchestra
WINNERS
1st Prize

Kei Daigo (Japan)
THE NORTHERN CAMELLIA - GRADATION OF SOUNDING AMITY No.2 - Cash Award
1,200,000 yen
2nd Prize

Giovanni Dario Manzini (Italy)
Until the sea above us closed again Cash Award
800,000 yen
3rd Prize

Timo Ruttkamp (Germany)
BLACK BOXES für drei Orchestergruppen Cash Award
600,000 yen
4th Prize

Siraseth Pantura-umporn (Thailand)
AWAKENING / SERENITY Cash Award
400,000 yen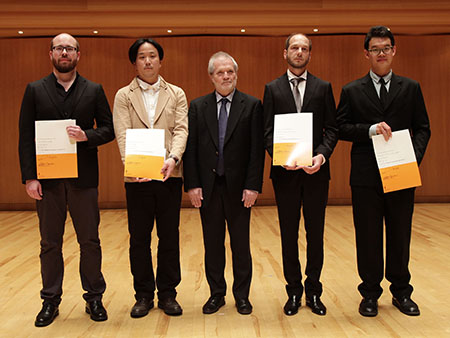 Comments by Peter Eötvös, judge
It is a great pleasure for me to be in Japan again. The first time I visited the country in 1970, I spent six months in Osaka on the occasion of the World Expo as a member of the Stockhausen ensemble. Later I came to Tokyo and Akiyoshidai as a conductor and a composer. Now I am standing here as the invited judge for the Toru Takemitsu Composition Award.
I have had the opportunity on several occasions to take part in the selection process of composition awards, once with Mr. Takemitsu personally when both of us were on the jury together in a competition in Paris in the 1980s.

Over the previous decades of my life, I have spent much time in the selection of scores. It was a pleasure to read the scores, especially since I am very interested in the musical thinking of the younger generation, but ultimately I had to make my decision based on which piece I thought would become part of the international orchestral repertoire.
As a composer I was concentrating on the individual voice and the character of each piece as well as the score-writing technique. I was also curious to know what would come next: where could the composer's creative thinking lead me?
As a conductor I had to consider that the selected pieces should meet the requirements to be chosen for international concert programs in the future. Nowadays all orchestras worldwide – which play contemporary repertoire – are very interested in the younger generation and they will warmly welcome these pieces.
I recommend all young composers to participate in rehearsals as regularly as possible. It is important to hear what can be realized and performed in an orchestra compared to what their conception of it is.
These four composers in the final each have a particular and characteristic voice. I do hope that following today's premiere, other orchestras will also choose to program them.

Now I will give my short comments for each of the four short-listed pieces:

Timo Ruttkamp: BLACK BOXES für drei Orchestergruppen
This piece incorporates its incredibly compact and energetic material into a single frame, into one great stereo sound. The details are composed by very fine way, but the conception of the four-bars system form works against the richness of the material. I would like to propose to the composer to continue the work on this piece and to liberate and adapt the strict-form to the listeners' capacity.

Kei Daigo: THE NORTHERN CAMELLIA - GRADATION OF SOUNDING AMITY No.2 -
This composer has a deep knowledge of sound. He does not listen to it from outside, but from within the music. He uses a special technique: he constantly repeats sounds instead of lines. In this way, sounds are lifted from the ground into space. This piece has the best orchestral sound, luminously, well balanced, using the full spectrum of the orchestra. The alternation of the short solo moments with the big waves of sound is very fine, giving a well-balanced, transparent form. The score is written on the highest precision, it is very complex and clear. The permanent fluctuation made by the pulse-repetition gives to the piece lightness and bright beauty, the beauty of big waves.

Giovanni Dario Manzini: Until the sea above us closed again
It is the choice of theme and the musical refinement that makes this subdued and sensitive piece stand out from among the others. This piece is like three poems, recited in a whisper. It evokes the spirit of Dante – and the moment it becomes almost tangible, it disappears. This composition uses many new sounds and instrumental techniques, characteristic of the Italian music of the last decade. Manzini integrates this technique in organic way in his own music and his piece could be part of the international orchestral repertoire, I guess.

Siraseth Pantura-umporn: AWAKENING / SERENITY
I am happy to see this young composer from Thailand in the final, because the sound of his music is a new colour on the palette of the orchestra. It is a piece one can recognize after hearing it only once. It is unique, singular and very positive. But he needs more practical experience, and more contacts to the international musical life.

Appreciative thanks are due to the staff of the Tokyo Opera City Cultural Foundation, the Tokyo Philharmonic Orchestra and the conductor, Maestro Yoichi Sugiyama. I am very impressed by the high quality of their work and their interest to realize the new ideas of the young composers.

And so, to the final part of my speech, which is to announce the prizes:

Fourth prize: Cash Award 400,000 yen
Siraseth Pantura-umporn (Thailand): AWAKENING / SERENITY

Third prize: Cash Award 600,000 yen
Timo Ruttkamp (Germany): BLACK BOXES für drei Orchestergruppen

Second prize: Cash Award 800,000 yen
Giovanni Dario Manzini (Italy): Until the sea above us closed again

First prize: Cash Award 1,200,000 yen
Kei Daigo (Japan): THE NORTHERN CAMELLIA - GRADATION OF SOUNDING AMITY No.2 -
Thank you very much.
Prizewinners
1st Prize
Kei Daigo (Japan)

THE NORTHERN CAMELLIA - GRADATION OF SOUNDING AMITY No.2 -
Born in Saitama, Japan, in 1979, and mainly brought up in Shiroi City of Chiba Prefecture, Kei Daigo studied composition with Teruyuki Noda, and took the bachelor (2005) degree in composition at Tokyo University of Arts. His prize-winning pieces include «Concerto for Orchestra» (Japan Symphony Foundation Encouragement Award, 2008), «Gradation of Sounding Amity No.1» (the 2nd Prize, at The All Japan Band Association Composition Award, 2009), «Good morning Complex» (the 2nd Prize, at The 78th Japan Music Competition, 2009), «Gradation of Sounding Amity No.4» (nominate, at The 23rd Akutagawa Composition Competition, 2013).
Comment

I started to compose this piece two years ago and I finished it last autumn. It took me about one and a half years and this was the longest time I took for one composition.
I liked my own idea for this composition so I was involved with it for one and a half years, but at the same time, I was not really sure whether other people would find it interesting and I was a bit worried about it. But for me, the current trend of contemporary music or composing something easy to understand was not the priority, so I was always wondering whether somebody would find this work interesting.
When I heard I was nominated, I was very happy that someone else had found my work interesting. But the next moment, I started to wonder whether it was true and if it wasn't a mistake. So my honest feeling was not only of happiness but a sort of surprise. There was a very complex feeling in myself.
But this kind of complex feeling was somehow very comfortable for me, so I would like to keep up my efforts and have another opportunity to experience such feelings again.
Thank you all for coming today.
2nd Prize
Giovanni Dario Manzini (Italy)

Until the sea above us closed again
Born in Florence, Italy in 1978. He approached composition by studying jazz harmony and piano improvisation with Tim Richards in London in 2007. In 2008 he started teaching himself classical harmony and orchestration, and in 2010 he went back to Florence and enrolled in the composition course at Scuola di Musica di Fiesole studying with Andrea Portera. He has written concert music and soundtracks for several artists, ensembles and institutions, amongst them: Virgilio Sieni, Nuovo Contrappunto Ensemble (Florence), Orchestra I Pomeriggi Musicali (Milan), A Cappella Boğaziçi (Istanbul), Swedish Film Institute (Stockholm) and Greenpeace. His works are published by Sconfinarte (Milan).

Comment

There are few things a composer in the early stage of his career can wish for, and certainly one of these is participating in the Toru Takemitsu Composition Award. I am deeply thankful to have met all the people involved in this and to have been given the possibility to learn so much.
I have learnt about the meaning of commitment and patience from the orchestra, whose preparation, unity and sensitivity was utterly outstanding. I have learnt much about the meaning of listening and open-mindedness from Maestro Sugiyama, and about clarity of vision and musical honesty from Maestro Eötvös who honoured me by selecting my score and who inspired me with his composition, his conducting and his truly helpful words about my music.
I've learnt more about the meaning of exchange and hope from the other finalists who just like me are brave enough to keep dreaming up music to share it with everyone.
In particular, I have learnt about the meaning of true generosity from Mr Wataru Taguchi, Shuichi Segawa, Jun Sawahashi and all the members of the Tokyo Opera City Cultural Foundation whose attention and kindness made me feel so welcome throughout my stay in Tokyo.
I deeply thank you for all for all this and I leave you hoping to come back to Japan soon.
3rd Prize
Timo Ruttkamp (Germany)

BLACK BOXES
für drei Orchestergruppen
Born in Hagen, Germany in 1980. He studied composition and electronic composition with York Höller and Hans Ulrich Humpert at Cologne Conservatory. He passed additional studies at CNSMD in Paris with Frédéric Durieux and at McGill-University in Montréal. His honours include several scholarships and prizes for composition, e.g. Bernd Alois Zimmermann Prize of the city of Cologne 2008, 1st prize at German Music Competition for Composition 2010 and 6 months scholarship for the Cité Internationale des Arts in Paris in 2011 by the German government. In 2013 he was a finalist at Isang Yun International Composition Prize.
http://www.timoruttkamp.de/
Comment

Ladies and gentlemen, I feel deeply honoured to have been invited to the final of the Toru Takemitsu Composition Award and to receive this considerable prize which is one of the most important awards for young composers in the world.
First of all, the cooperation of the excellent musicians of the Tokyo Philharmonic Orchestra and Maestro Yoichi Sugiyama was a really great experience. Thank you for the fantastic performance of my composition.
I would like to thank the president, the manager, producer Jun Sawahashi and all members of the Tokyo Opera City Cultural Foundation who made this unique and very professional competition possible. They gave us a very warm welcome and kind assistance and I really felt at home.
And of course, I would like to thank Mr Peter Eötvös for selecting us and for his kind advice and comments on our compositions.
Last but not least, I would like to thank the audience and all friends of contemporary music supporting all composers by attending concerts and listening to our creations.
This is my first time to Japan and I am grateful to be a guest in this impressive and fascinating country. I am really excited about exploring not only Tokyo but more Japanese regions and cities during the next days.
Domo arigatogozaimasu.
4th Prize
Siraseth Pantura-umporn (Thailand)

AWAKENING / SERENITY
Born in Bangkok, Thailand in 1982. Self-taught music composition from 15 years of age and forwarded his study to the Department of Music, Chulalongkorn University, Thailand where he studied music composition with Prof. Narongrit Dhamabutra and Prof. Weerachat Premananda. In 2002, he won the 23rd Irino Prize for Orchestra in Japan. In 2004-2006, He won the Young Thai Artist Award 3 times consecutively. In 2006 he was selected composer in the Thailand International Composition Competition for Saxophone. His works have been performed by various groups of musicians e.g. New Japan Philharmonic, Orchestra Internazionale d'Italia, Ensemble Kochi, Ensemble TIMF, Luxembourg Sinfonietta, etc. in several countries such as Thailand, Cambodia, Myanmar, Malaysia, Singapore, Philipines, Hong Kong, Japan, Korea, Indonesia, Europe and America.

Comment

It is a great honour to be here. First of all, I would like to say thank you to Professor Eötvös for selecting my composition for the final of the Toru Takemitsu Composition Award this year. I would like to thank him for everything he taught me during the past few days which would be appreciated.
Thank you to Mr Sugiyama, Mr Jun Sawahashi and all of the members of the Tokyo Philharmonic Orchestra for their hard work until we have the concert today.
One person I would like to pay respect to is Mr Toru Takemitsu, who brought an Eastern tradition, Eastern way of thinking to the world. This would be an inspiration for young generation of composers like me to compose something for the world.
Thank you very much.
Contact us
Tokyo Opera City Cultural Foundation
3-20-2 Nishi-Shinjuku, Shinjuku-ku, Tokyo 163-1403 JAPAN
Tel. +81 3 5353 0770
Fax.+81 3 5353 0771