Toru Takemitsu Composition Award
Results
Judge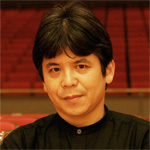 Final Concert
Sunday 27 May 2012 | Tokyo Opera City Concert Hall : Takemitsu Memorial
Naohiro Totsuka, conductor / Tokyo Philharmonic Orchestra
WINNERS
1st Prize

Federico Gardella (Italy)
Mano d'erba, per orchestra Cash Award
1,100,000 yen

Ioannis Angelakis (Greece)
une œuvre pour l'écho des rêves (II), pour orchestre Cash Award
1,100,000 yen
2nd Prize

not awarded
3rd Prize

Masato Kimura (Japan)
I do hope to sleep in the silent universe Cash Award
400,000 yen

Shiori Usui (Japan)
WARAI Cash Award
400,000 yen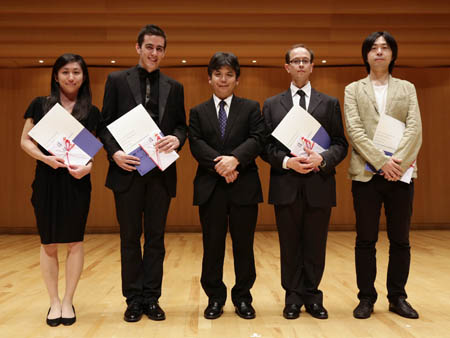 Comments by Toshio Hosokawa, judge
In previous years, I have attended the final concerts of the Toru Takemitsu Composition Award as a member of the audience and enjoyed myself relaxedly, but this time it was very hard and I couldn't just enjoy. Taking part as the judge this year, I have found for the first time that the people of the Tokyo Opera City Cultural Foundation are so very kind to the finalists. All the finalists are cordially invited to Japan, staying at a first-rate hotel and having excellent Japanese food, and best of all, the Tokyo Philharmonic Orchestra are playing the music so very beautifully and Maestro Totsuka is studying the score very hard and patiently rehearsing with the orchestra.
When I was younger, at rehearsals with orchestras in particular, some musicians were mean to me and wouldn't listen to whatever I said, but this time the orchestra members were very gentle and also disciplined, and were listening to what all the young composers were saying and patiently rehearsing the difficult parts as well. As the final concert of a competition, I think this is the best in the world in terms of the quality of the music actually played. If I had been thirty years younger, I would have liked to apply for this competition and possibly be selected and have my piece played.
So firstly, I would like to thank all these people: Maestro Naohiro Totsuka, all the members of the Tokyo Philharmonic Orchestra and all the staff of the Tokyo Opera City Cultural Foundation. Thank you to you all.

So now, piece by piece, I would like to add some comments on the works performed today.
The work by Mr. Masato Kimura has a clear musical concept and from the first note to the last, it is the music that the composer really wants to listen to. His music reminds me of Asian ink painting and landscape painting using light brushstrokes and with lots of beautiful gradations, but more than that, he has a sound, a sonority that he wants to pursue and he is on a serious quest for this sound. The most striking part I felt reading the score and listening to the music of this composer is that he has the sound, he really wants the particular sound, whereas with some young composers today, I wonder if they really have their own sound world.
The title of his piece I do hope to sleep in the silent universe means something, something that he wants to make real which has impressed me. What I found most excellent in the work was that in the first section titled "Silence", there was subtle harmony throughout, very, very quiet, almost inaudible, and repeated notes layered in that quietude, but if you listen to it carefully you could find various sounds in that quietude. Constructing the music centred on sonority itself reminds me of Edgar Varese. If Varese had been interested in Miyamoto Musashi, he might have written this kind of music.
If I may say for his future, his work could do with a little more complex structure in terms of harmony and time, and then his sound world will function better. Otherwise, there is a little danger that his sound might not reach the heart of other people and it may be taken as a design or as decorative music. Also there were some problems with his notation which caused some trouble with the musicians.

Next, WARAI by Ms. Shiori Usui. When I first read this score, I thought that the work must be by a crazy British or a very clever American male composer. Therefore, I was very surprised to find out that in fact the composer was a young female Japanese composer. Her work is the most outstanding in the idea and was the most adventurous and experimental score in this year's competition. I have to note that she has the courage to go into to that adventure. She also has technique in writing the score, which was meticulous and very well written. Because of the various extended techniques used, when I read the score, I couldn't perfectly imagine what kind of sound will come out of the score. I think it was the most difficult for the players to perform out of the four pieces performed today. As a result, there were some very successful parts, while some other parts were not as successful as the composer might have expected. The problem with this work was that the material is too various and too rich, and the concentration of the whole piece was somewhat sacrificed. With more limited materials but with richer development, and the music would have been even more interesting and the "laughter (WARAI)" would have been even richer and louder. However this composer has a great talent with her liberated mind and generous freedom and she has a great future.

The third piece Mano d'erba by Mr. Federico Gardella was musically the most perfect of the works performed today. It has a beautifully restrained poetry and there was no sound that was meaningless. The number of notes is few compared with some other more colorful and elaborate scores and it may seem at first sight a little monotonous, but then you find meaning in each single sound. It is very well thought out and also it is the sound the composer really wants to listen to. Also, I think performers find pleasure in playing this kind of music. Maybe in the works of Mr. Kimura and Ms. Usui, the orchestral players couldn't really understand what they were doing. Even if we can make great sounds in music, each orchestral player should have the pleasure of playing his or her own part. If I may say one thing to this composer, maybe he should be more crazy like Ms. Usui and then his world will be more adventurous. This I have to admit I have to say to myself too.

The final work today, un œuvre pour l'écho des rêves (II) by Mr. Ioannis Angelakis, was a very lively work by a young genius, just 23 years old. His music reminds me of young Mendelssohn's sonority, and it is the type of music only young talented person can write. Passage after passage there was creativity and musicianship, and on every page. Furthermore, he has musical depth and I was often very struck by his music. However, as a composer, he doesn't quite have the finished touch yet and sometimes the ideas are too rich and the musical spring is too productive for one composition to support, so there was small room for improvement. If he can edit the beauty of the details with more control, his work will be even more wonderful.
Prizewinners
1st Prize
Federico Gardella (Italy)

Mano d'erba
, per orchestra
Born in Milan, Italy in 1979. He studied composition at the Conservatory of Milan graduating with Alessandro Solbiati and at the Accademia Nazionale di Santa Cecilia in Rome with Azio Corghi. His works have been commissioned by Divertimento Ensemble, Orchestra della Toscana, Orchestra I Pomeriggi Musicali, Résonance Contemporaine and Trieste Prima. His music has been performed in many festivals and music seasons (Bologna: Accademia Filarmonica, Boston: Harvard University, Florence: Maggio Musicale Fiorentino, Lodz: Lodz Philharmonic Hall, Milan: Festival di Milano Musica, New York: Columbia University, Parma: Traiettorie/Casa della Musica, Riga: Festival Arena/Great Guild Concert Hall, Rome: Auditorium Parco della Musica, Royaumont: Voix Nouvelles, Turin: MITO SettembreMusica, Unione Musicale).
http://www.federicogardella.it/
Comment

Ladies and Gentlemen, I am so happy to be here. I am very honoured to receive this award. I would like to thank some persons that have made this great musical experience possible for me. Mr. Taguchi, the President, thank you for believing in contemporary music. Toru Takemitsu Composition Award represents something very special, and I thank you for the support in organizing this important musical event.
Thank you Maestro Hosokawa for giving me the opportunity to present my music in this final concert. I would also like to thank you for your music and your example for the composers of our generation.
I would also like to thank Mr. Naohiro Totsuka and the Tokyo Philharmonic Orchestra for the deep performance of my piece. I think that it is very important for the composer to work together with sensitive musicians. Thank you to everybody for this unforgettable moment and domo arigato gozaimasu!
1st Prize
Ioannis Angelakis (Greece)

une œuvre pour l'écho des rêves (II)
, pour orchestre
Born in Thessaloniki, Greece in 1988. He studied in the Department of Music in Aristotle University of Thessaloniki and he received his undergraduate degree in composition. His principal teacher was prof. Christos Samaras. Furthermore, he studied harmony and he also obtained a diploma degree in guitar studying with N. Hatzieleutheriou, in Athens. Other studies include Counterpoint, Analysis, Fugue and Orchestration in Thessaloniki. Since fall 2011 he has been living in Boston where he is studying in a master's degree in composition in Boston University.
https://www.reverbnation.com/ioannisangelakis
Comment

I am deeply honoured to have my music performed in this competition in memory of Toru Takemitsu, and being judged at the same time by Toshio Hosokawa.
Dear President, Managing Director and Chief Producer, I would like to thank you all for two reasons. Firstly for your warm welcome which is really appreciated. And secondly, for having established such a prestigious, high-standard and professional competition that gives young composers the opportunity to have their music performed by such an amazing orchestra and under such wonderful circumstances. The feedback and experience I got are beneficial and invaluable.
I have to say at this point that I have been in several international competitions, but the standards, the organization and the quality of this particular one go beyond what I could have ever imagined. Furthermore, I would like to thank the conductor Naohiro Totsuka who approached my work in a deep and professional, but at the same time expressive and insightful way. And to the amazing performers of the Tokyo Philharmonic Orchestra who responded to my ideas and suggestions and were kind and cooperative and wholeheartedly supported my work. Finally I would like to thank Mr. Jun Sawahashi whose assistance has been really helpful for the last seven months and of course all you ladies and gentlemen who came to listen to our music.
This was my first visit to Japan and I'm so impressed by Japanese people and Japanese culture that I hope to return again many more times. Thank you very much.
3rd Prize
Masato Kimura (Japan)

I do hope to sleep in the silent universe
Born in Tokyo, Japan in 1981. Having grown up in environment without relation to music, he has started to learn the piano by himself being attracted to sense of harmony and a color of electric sounds of Ryuichi Sakamoto's music, then studied composition. While he studied Western classical music, mainly researched composition technique from the Japanese composer's work. He qualified 'The Music Competition of Japan', 'Toru Takemitsu Composition Award 2009' (Judge: Helmut Lachenmann), and 'Takefu Composition Award'. At present, he studies work of electronic music by himself. His composition style is based on repetitive motion. He makes the chaos phenomenon of nature project on it. He doesn't consider music as an intellectual structure, is interested in expressing spirituality to space-time.
Comment

Thank you everyone for coming today. First of all, I would like to thank Mr. Hosokawa who selected my work for the final. This is the second time I have participated in this competition – the first time was with the jury Mr. Helmut Lachenmann who is a good colleague of Mr. Hosokawa, and I would like to thank Mr. Lachenmann too. After the last competition, I rethought my music quite seriously and then Mr. Hosokawa selected me this time, so I am deeply indebted to these two original composers who cared for me.
In spite of the demanding score, the conductor Mr. Totsuka and the musicians of the Tokyo Philharmonic Orchestra gave a wonderful performance. I would also like to thank everyone at Tokyo Opera City Cultural Foundation, in particular Mr. Sawahashi who helped me even more than last time. Lastly, I heartily wish that the Toru Takemitsu Composition Award will contribute to the future of our music. Thank you very much.
3rd Prize
Shiori Usui (Japan)

WARAI
Born in Saitama, Japan in 1981. She moved to Scotland, UK at the age of seventeen. She studied composition at the University of Edinburgh with Nigel Osborne, Peter Nelson and Marina Adamia. Her works have been performed in Japan, Europe and USA, and she was a composer in residence for BBC Scottish Symphony Orchestra from October 2010 until February 2011. She has worked in both instrumental music and motion capturing sensors, and many of her compositions are inspired by the theme 'using the body as a musical instrument'. She enjoys playing in the improvisation groups in Edinburgh, UK and Lisbon, Portugal as a noise vocalist and pianist.
Comment

Hello everybody. I am the "crazy", half-Japanese and half-Scottish composer. Many things happened during this competition, but overall it was a great experience and I enjoyed it thoroughly. As Mr. Hosokawa rightly pointed out, working with good orchestral musicians is the most precious experience for a young composer, but at the same time, musicians have various values, and to unite all of them and to create the final product was the biggest challenge for me. Also as Mr. Hosokawa said, there are some parts I need to review and rewrite in my music which I felt too during the rehearsals. As the work was written in 2009, I have to say I sometimes felt as if I was looking back on myself in the past, and was a little frustrated by it too.
Every day was a new challenge for me, but through this experience, I was able to feel that the orchestra was a living animal. I made many demands to the musicians of the orchestra and some of them may have been rather bemused, but they were very kind and professional and I am very thankful. I also made many demands to the conductor Mr. Totsuka, but he was also very kind and gave me advice from the viewpoint of the conductor which helped me a lot. I have also encountered with the situations that made me wonder how Toru Takemitsu would have advised me if he was still alive but these were all precious experiences for me.
I would like to thank everyone at Tokyo Opera City Cultural Foundation and Mr. Hosokawa, and especially Mr. Sawahashi – I couldn't do without his help. Lastly, I would like to say that the Toru Takemitsu Composition Award is a wonderful award that the Japanese people can be proud of. Thank you so much to all the people who came today to listen to our new works.
Contact us
Tokyo Opera City Cultural Foundation
3-20-2 Nishi-Shinjuku, Shinjuku-ku, Tokyo 163-1403 JAPAN
Tel. +81 3 5353 0770
Fax.+81 3 5353 0771