Toru Takemitsu Composition Award
Results
Final Concert
Sunday 30 May 2010 | Tokyo Opera City Concert Hall : Takemitsu Memorial
Takeshi Ooi, conductor / Tokyo Philharmonic Orchestra
WINNERS
1st Prize

Roberto Toscano (Brazil)
...FIGURES AT THE BASE OF A CRUCIFIXION Cash Award
1,000,000 yen
2nd Prize

Andrej Slezák (Slovakia/Hungary)
Aquarius Cash Award
750,000 yen

Ken Namba (Japan)
Infinito nero e lontano la luce Cash Award
750,000 yen
3rd Prize

Chikako Yamanaka (Japan)
Deux Présages Cash Award
500,000 yen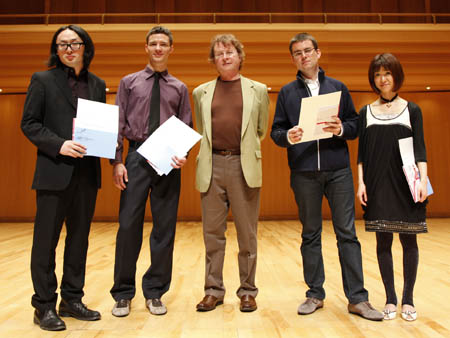 Comments by Tristan Murail, judge
First of all, it is a great honor to be here with you tonight. It is also a very moving moment for me, as I knew Mr. Toru Takemitsu quite well. Not only was he a great composer, but he was also a wonderful, generous person. In fact, it is thanks to him that I discovered Japan: this was a long time ago, in 1984. Mr. Takemitsu had been asked by a sponsor for new music, the Kyoto Community Bank, to help them identify composers who would write new works for the Kyoto Symphony Orchestra conducted by Seiji Ozawa. I was one of the composers he selected, and this is how I had the opportunity to come to Japan twice at the time, and to spend some wonderful time in the company of Mr. Takemitsu and his wife.
So, it is a great honor to be here, but it is also a frightening responsibility. As you know, usually musical juries consist of a number of members. So there are discussions, arguments are exchanged and weighted, sometimes a consensus may appear, but most of the time just a majority. Individual preferences can be defeated, but altogether it is a more comfortable situation for the jury members, as everyone can hide behind a collective - thus anonymous - judgement.

However, having, alone, to decide the winners of a competition, among - this year - more than 80 big orchestral - often complex - scores was a frightening challenge! I am very conscious that my judgement has been very subjective, that I probably made mistakes, or missed some very fine - or even genial - scores. But the beauty of Mr. Takemitsu's scheme is that my colleagues - I mean the future juries of the Prize - will be able, maybe, to repair my mistakes (while maybe committing their own...).

In general, I found that the average level of the scores submitted was quite high. Most of the scores were very professionally written, and many had an interesting element or interesting approach of some kind - such as a research for new instrumental combinations, the use of special tunings, more or less daring musical concepts or intentions, or, simply, beautiful gestures or strong musical emotions.

The styles and inspirations were very diverse, which made comparisons difficult. So I tried to put aside my stylistical preferences and to open my ears and my mind to any kind of approach, from the more adventurous to the more traditional. I also tried to use more "objective" criteria like: a harmonic organization that showed - if not imagination - at least a coherent organization of pitches; a truly orchestral writing which would also propose fresh and appealing combinations of sounds - whether they were obtained by conventional playing or by new instrumental techniques; concerning rhythm, I looked for flexibility and suppleness; I searched for striking musical structures, as well as for well-conceived forms, for a good timing of musical events - all things that would, finally, result in strong perceptive and psychological effects.

I know perfectly well that there were a number of really interesting pieces that could not be selected. Some of these pieces could not be selected for purely technical reasons. During the process of selection, I came down to a short list of a dozen pieces. I believe that all of them would have deserved to be selected and performed here today. But I had to choose only a few of them, and I apologize to the - unknown, since the competition was anonymous - composers whose pieces were not chosen. I can only encourage them to try again! However, this shows the vitality of composition today; from all around the world, from more and more countries, more and more young and talented composers are emerging.

It happens that three of the pieces selected ask for a special layout of the orchestra. This was not the reason why I selected these pieces, but these unusual requirements of a "spatialized" orchestra might be a side effect of some of the criteria that I mentioned before. At least, I think and I hope they provided a special and rare experience to you, who listened to these pieces today. Many institutions and orchestras would shy in front of such requirements, but it could happen today, thanks to the Tokyo Philharmonic Orchestra, to its conductor, Maestro Takeshi Ooi, and to the Tokyo Opera City Cultural Foundation. I would like to thank all of them heartily for all their hard work and constant efforts and contributions to the cause of contemporary music. The Takemitsu Prize is really a unique opportunity for many young composers, not only to win a prize, but, above all, to hear their music performed so well, and in such a beautiful venue.

Now, a few comments on the pieces. First of all, I would like to say that I was impressed by the extremely professional orchestral writing of all four pieces. Now, about each piece, in the order of the concert:

…FIGURES AT THE BASE OF A CRUCIFIXION, by Roberto Toscano, is a piece of somber beauty, dramatically intense and full of emotional passages. The timing is excellent and the form is very convincing. The pitch organization is simple, concentrating on a few tones, but it is efficient and it is coherent with the orchestral gestures. Listening to the piece, I sometimes thought of the music of Giacinto Scelsi, but with a much more vehement and emotional dimension. The orchestral timbres are often surprising and striking, especially in the beautiful beginning and ending of the piece. For those who know this painter, the piece is well evocative of Francis Bacon's world, though the composer is right to say that it's not a programmatic work. In short, we have here a strong and original composer's voice.

Infinito nero e lontano la luce, by Ken Namba, offers a very different vision. Though it is written for a smaller orchestra, with a solo piano, it still has an ample orchestral sound. To me, the piece sounded like a powerful musical sculpture, with lots of boiling sound masses, and an ever-present underlying energy, even in the more peaceful passages. The harmony of the piece is quite mysterious. Going back to visual comparisons, I thought of the fantastic Nympheas paintings by Claude Monet, which I visited again last month in Paris. I heard like clouds of colored noises, from which sometimes a little spot of clear harmony was emerging. There are a good number of orchestral findings too: for instance those soft sustained sounds of the clarinets which color the percussion tremolos, and the end of the piece.

Deux Présages, by Chikako Yamanaka, starts with nice and fresh orchestral gestures, and one can hear quite well the stereophonic effects created by the special layout of the instruments. The harmony is always very clear and coherent, with allusions – at least, so it seemed to me - to pentatonic scales. Sometimes it gave the music a subtle "Asian" flavor - though I don't know if this is intentional, or just my perception.
In general, the piece had a great orchestral sound, even if the style was a little too traditional for me (but as I said before, I tried to put my stylistic preferences aside for this competition). The form is well organized, and here and there, the listener can enjoy nice instrumental combinations. The end was surprising, with a quasi Varèse sound - of course, the sound of the sirens!

Finally Aquarius, by Andrej Slezák. At the beginning of the piece, you inevitably think of the music of Ligeti. But quickly things change, and we are given to listen to a succession of rich harmonies and textures. Here too, the form is well conceived, and there is always some feeling of suspense, of expectation. For me, the piece had some sort of "cosmic" atmosphere, or perhaps you could say it was like a dream, or like a trip through some unknown places. There were also a number of interesting orchestral contrasts; for instance, after all these rich textures, it was a very good idea to reduce the orchestra to a solo string line, and to a simple melodic interval of a tritone.

Now, it was very hard to rank these different pieces. As Helmut Lachenmann said last year, it is "as impossible as to make a ranking between Gagaku music, a Viennese waltz, New Orleans blues and an Indian Raga" and I completely subscribe to this comment! I don't know who was the Viennese waltz or the New Orleans blues tonight, but I had to follow the rules and to make a very subjective decision, which, I am sorry you will have to live with.
So, we have a third prize of 500,000 yen, which goes to Deux Présages, by Chikako Yamanaka. Then, we have two second prizes of 750,000 yen each for Aquarius, by Andrej Slezák and for Infinito nero e lontano la luce, by Ken Namba. And of course a first prize of 1,000,000 yen to Roberto Toscano, for …FIGURES AT THE BASE OF A CRUCIFIXION.

Thank you for your patience in listening to me.
Prizewinners
1st Prize
Roberto Toscano (Brazil)

... FIGURES AT THE BASE OF A CRUCIFIXION
Born in São Paulo, Brazil, 1982. He resides in the United States awhile he completes his master' s degree in composition (Tufts University). His music has been performed, premiered and broadcast in South America, North America, and Europe. His work has always been deeply connected and influenced by the output and concerns of artists working outside the realm of music; from the masters who worked in the field of plastic arts throughout the XXth century, to modern day architects pushing the envelope in the design and conception of new spaces. Some recent and ongoing projects include: Krajcberg Sinfonia for Baritone Saxophone and Symphony Orchestra, Atmospheres:Cascades for Organ, String Quartet n.02, and Cadenza i & ii for Violin Solo - among others. He is the chairman of Nova-Composers; this composition society was founded to help organize new music concerts and events in the United States and abroad.
2nd Prize
Andrej Slezák (Slovakia/Hungary)

Aquarius
Born in Bratislava, Slovakia, 1980. In 2003 he graduated in Piano and Composition at the Conservatory of Bratislava. He continued his education at the Liszt Academy in Budapest where he also studied Jazz Composition and Improvisation. In 2006 he moved to France for a scholarship at the Conservatoire National Supérieur de Musique de Paris. He finished his studies obtaining a diploma with merit in 2007. He received various prizes at national and international competitions including Dimitris Mitropoulos (Athens, 2009); Stadtpfeifer (Salzburg, 2008); "Zeitklang" (Vienna, 2008); Jazz Composition Competition (Budapest, 2006) and Competition of Conservatories (Bratislava, 2003).
http://www.andrejslezak.com/
2nd Prize
Ken Namba (Japan)

Infinito nero e lontano la luce
Born in Hamamatsu, Shizuoka, 1983. He graduated from Toho College of Music, and took a master's degree in 2008. He studied with Kazuaki Ogikubo, Jun Nagao, Tomiko Kohjiba, Carlo Forlivesi and René Staar. In 1998, he was selected by "experts in Shizuoka" (at Concert hall Shizuoka AOI). His works have been performed by many players not only in Japan, but also in Vienna and Kosovo. In 2008, he won the first prize in the "Japan national composition competiton iic tokyo 2008" (at Istituto Italiano di Cultura Tokyo).
http://kennamba.dousetsu.com/
3rd Prize
Chikako Yamanaka (Japan)

Deux Présages
Born in Akaiwa, Okayama, 1983. She won a prize at the 74th The Music Competition of Japan. She graduated from Tokyo University of the Arts with the Acanthus Music Prize in 2007, and took a master's degree in 2009. In the same year, Rinne for a cello and piano duet (revised version) was premiered at the concert "Contemporary Virtuoso!" which was produced by Japan Society for Contemporary Music. Her works are Nocturne I (2003), Disillient for chamber music (2005), Three Fragments for piano played by the left hand, violin and cello (2006), Cytogenesis for orchestra (2007). She studied with Shozo Aoki, Masayuki Nagatomi, Ichiro Nodaira, and Atsutada Otaka.
Contact us
Tokyo Opera City Cultural Foundation
3-20-2 Nishi-Shinjuku, Shinjuku-ku, Tokyo 163-1403 JAPAN
Tel. +81 3 5353 0770
Fax.+81 3 5353 0771