Toru Takemitsu Composition Award
Results
Judge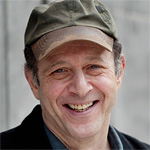 Final Concert
Sunday 25 May 2008 | Tokyo Opera City Concert Hall : Takemitsu Memorial
Ken'ichi Nakagawa, conductor / Ensemble Nomad
WINNERS
1st Prize

Yuichi Matsumoto (Japan)
What do you think about the dropping of atomic bombs on Hiroshima and Nagasaki? Cash Award
1,000,000 yen
2nd Prize

Thomás Barreiro (Mexico)
La Noche de takemitsu Cash Award
800,000 yen
3rd Prize

Damian Barbeler (Australia)
God in the Machine Cash Award
600,000 yen

Toru Nakatani (Japan)
16_1/32_1 Cash Award
600,000 yen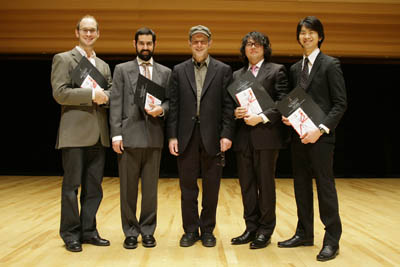 Comments by Steve Reich, Judge
I would like to begin by saying thank you to everyone at Tokyo Opera City and especially to Tetsuki Kunishio who really did so much work to get me and the Ensemble Modern and Synergy Vocals and Brad Lubman all here to Tokyo and back. So thank you Tetsuki, thank you everyone here at Tokyo Opera City.
When I was first asked by Tokyo Opera City to judge the composition contest, I said "NO". I thought for a minute and I thought maybe it was an orchestral composition contest. But then I thought, wait a minute, maybe I can contribute to a change in music in Tokyo, and that would be worthwhile to do. So I e-mailed back and said "would you consider not making it orchestral, but making it for an ensemble?" Just briefly, you know what an orchestra is - you have 18 first violins, 16 second violins etc - and ensembles are what you saw tonight. And not only did I say ensemble, but ensemble with electronics.
And that is what you saw this evening. You saw musicians, you saw samplers whether you knew it or not, you saw synthesizers, and something very special that I never saw before - a snare drum that was rattling because there was a piece of electronic equipment sending signals to it. Just briefly, most of this electronic equipment was not built for classical musicians, but it was built for rock 'n' roll. If you go to any music store in Tokyo and look in the window, this is what you will see. You will say "where are the instruments? Oh there is one guitar" but all the rest is some kind of electronic equipment.
What do we learn from this? What I learnt from this is that these electronics are part of our folk music of today. They are what kids do who just spontaneously want to make music. There is a long tradition in classical music - I mean back to the Middle Ages, through Béla Bartok, through Igor Stravinsky and Johann Sebastian Bach - of listening to folk music and to popular music and bringing it into their music in a wonderful way.

So now to the actual people you heard tonight. I received two huge boxes of scores and CDs from Tokyo Opera City - I think 76. I listened and listened and looked and looked, and I chose these four people. I will just read to you in their names in which their pieces were played.

Damian Barbeler is using sampling, which is used very often in rock 'n' roll. The most famous musician ever sampled was James Brown. There are probably more James Brown samples on earth than any other living musician - well, he is not alive but his samples are. But Mr Barbeler used the samples of Monteverdi - totally, totally different. We had almost the ghost of Monteverdi coming back here hundreds of years later - even the way he recreated his samples to make it sound not so hi-fi but sort of old and in the background. I think he has a very good ear to integrate Monteverdi with his own very good orchestration.

Tomás Barreiro from Mexico wrote "La Noche de Takemitsu" - a nice combination of Spanish and Japanese. You probably know that Takemitsu was interested in the guitar. Mr Barreiro is himself a very fine guitarist and as a result, you saw two electric guitars which was part of why I told you we should have these instruments available to us - they are our folk instruments. Mr Barreiro made particularly beautiful use of them, using techniques that are found in electric guitar and classical guitar, and the beautiful ending on harmonics that almost sounds like Japanese music was no accident. Mr Barreiro has a very fine ear.

Yuichi Matsumoto wrote a piece called "What do you think about the dropping of atomic bombs on Hiroshima and Nagasaki?" When I saw that title I stopped. Mr Matsumoto is doing at least two very interesting technical things. One of them is, as you could hear, he takes a part of speech - a noun, a verb, a connective - and to each part of speech he connects a note. So as I speak, "I" would be the noun, "speak" would be the verb. He would have notes prepared to play a melody that he has already set up a system for, based on these parts of speech. And he has to deal with both Japanese, which you heard from the speaker on this side, and English which you heard on the other side, which of course is perfect because unfortunately it was my country which dropped the bomb on your country. What is also interesting about Mr Matsumoto is that he takes something I just explained to you, a system, which is a mark of an intelligent composer - to have something that they have carefully thought out - and puts into the system something very, very emotional and powerful that grabs you, and I think you heard.

Toru Nakatani in "16_1/32_1" is interested in tuning and that is why when everybody came out you heard not just A to tune with, but all these different tunes. You probably thought that doesn't sound right and sounds unusual, and you were correct - it was not the tuning of the piano. Some of you probably know of your own music - to me the most famous Japanese classical music is the Imperial music, gagaku and you can't play gagaku on the piano. You can pay it on the sho and on the shakuhachi etc., because it is tuned to a different scale to Western Tchaikovsky or Brahms or Steve Reich etc. So Mr Nakatani is doing something that has interested composers in the twentieth century and into today, and now it is getting increasingly easier to do that because of electronics. You can take an electronic keyboard and you can tune it and it will play. You can play it normally but you will get totally different sounds. In a sense, John Cage was involved in that with the prepared piano. So Mr Nakatani did this using brass and strings, and you heard the results.

So in order of the winners of the contest, really I will tell you what I thought, but the real winners I don't know and time alone will tell. We will see which one of these young men goes on and does something wonderful. So all I can do is to say tonight I came up with this.

We have a tie for the third prize: Damian Barbeler for "God in the Machine" will receive 600,000 yen and Toru Nakatani also winning the third prize for his piece "16_1/32_1" will receive 600,000 yen. The second prize goes to Tomás Barreiro for "La Noche de Takemitsu" for which he will receive 800,000 yen.
The first prize winner is Yuichi Matsumoto for his composition "What do you think about the dropping of atomic bombs on Hiroshima and Nagasaki?" for which he will receive 1,000,000 yen.
Prizewinners
1st Prize
Yuichi Matsumoto (Japan)

What dou you think about the dropping of atomic bombs on Hiroshima and Nagasaki?
Born in Yokohama city. After Graduated from Ibaraki University, College of Engineering, the Department of Electrical and Electronic Engineering, he enterd IAMAS (International Academy of Media Art and Science) after working at a power electronics research and development company. He studied computer music and media art there. He worked at Institute of Advanced Media Arts and Science as a assistant, and then worked at the same school as acontract system administrator. Currently a research assistant in Department of Inter Media Art, Tokyo National University of Fine Arts and Music and a part-time Lecturer at Nagoya University of Arts School of Music. He studied composition under Kazuko Hayakawa and Masahiro Miwa. His main works is Enquete-art (Questionnaire Art) that use surveys to gather opinions from many people, whose answers are then presented in a work transformed into music. He supports artists and composes many soundtracks for visual artworks.
2nd Prize
Tomás Barreiro (Mexico)

La Noche de Takemitsu
Born in Mexico City. He started his music education with guitar lessons. After studied composition and guitar at the Centro de Investigaciones y Estudios de la Música, he did his Masters (2000-2002) in Music at the San Francisco Conservatory of Music, California with the Fulbright scholarship. He studied guitar with David Tanenbaum and improvisation with Dusan Bogdanovic. And then he performs and teaches in Mexico City as classical guitar soloist, chamber and jazz musician; performed extensively in Mexico and San Francisco, and participated in folkloric music groups touring France, Spain, Holland, China, Japan and the U.S. He serves as guitar and theory professor at CIEM and EMEH (both music schools in Mexico). Currently he composes music for concerts, films, and theater plays and he is finishing his PhD in guitar with emphasis in Music Education at Universidad Nacional Autónoma de México.
3rd Prize
Damian Barbeler (Australia)

God in the Machine
Born in Brisbane, Australia. Finished with honors the master degree in Composition from the Queensland Conservatorium of Music, in 2006 he commenced a PhD at the Sydny Conservatorium studying under Michael Smetanin. He undertook a Residency with the Sydney Symphony Orchestra in 2001. His music has been commissioned and performed by some of Australia's finest professional soloists and ensembles, and been recorded and broadcast internationally. Elected as a 'Recommended' work at the 2003 International Music Council's Composer Rostrum in Vienna, and subsequently broadcast in several European countries as well as across Australia. He was awarded the sought-after Ian Potter Emerging Composer Fellowship to compose seven works during 2006-07 including new commissions for recorder player Genevieve Lacey and a chamber opera for Southern Cross Soloist.
3rd Prize
Toru Nakatani (Japan)

16_1/32_1
Born in Nagoya city, Aichi. Graduated with bachelor degree in Human Sciences from Wako University. Built the Microtonal Guitar with movable frets in 1996. He began to play with rock group, jazz orchestra and improvisation group in 1998. He went to north south India and Sri Lanka in 2000 and during his stay in New Delhi, he studied Dilruba (Indian classical bowed instrument). He built original instruments such as the 19-strings Guitar with jawari, the Instrument only consists of the sympathetic strings, and the Just Intonation Guitar. He has had solo performances with these instruments since 2001. Selected as the finalist of The 24th JSCM Award for Composers in 2007.
Contact us
Tokyo Opera City Cultural Foundation
3-20-2 Nishi-Shinjuku, Shinjuku-ku, Tokyo 163-1403 JAPAN
Tel. +81 3 5353 0770
Fax.+81 3 5353 0771