Toru Takemitsu Composition Award
Results
Judge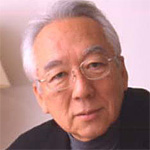 Final Concert
Sunday 26 May 2002 | Tokyo Opera City Concert Hall : Takemitsu Memorial
Ken Takaseki, conductor / Tokyo Philharmonic Orchestra
WINNERS
1st Prize

Hiroyuki Yamamoto (Japan)
Canticum Tremulum II Cash Award
900,000 yen

Tazul Izan Tajuddin (Malaysia)
TENUNAN II Cash Award
900,000 yen
2nd Prize

Panayiotis Kokoras (Greece)
FEEDBACK Cash Award
500,000 yen

Theodor Pauss (Germany)
Scene for Orchestra Cash Award
500,000 yen
3rd Prize

Michael John Wiley (USA / Mexico)
Tzolkin in C Major Cash Award
200,000 yen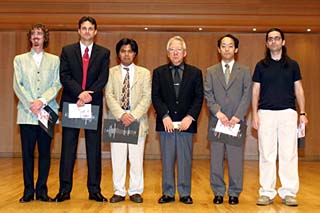 Prizewinners
1st Prize
Hiroyuki Yamamoto (Japan)

Canticum Tremulum II
He completed his postgraduate course at Tokyo National University of Fine Arts and Music in 1992, studying with Jo Kondo and Isao Matsushita. He won the 3rd prize at the 58th Japan Music Competition in 1989, JSCM composer's Award in 1996 and the 3rd prize at the BWV musica viva in 1998. He attended the Forum 91 in Canada, Gaudeamus Music Week 1994, ISCM World Music Days in 2000 and 2001. His works have been performed by many ensembles and orchestras in Japan, Holland, Belgium, France, Germany, Luxemburg, Canada and the United States, and broadcasted by radio. Member of ' Tempus Novum', which is the group of Japanese composers.
1st Prize
Tazul Izan Tajuddin (Malaysia)

TENUNAN II
He began to learn composition in 1994. Studied at Carnegie Mellon University receiving a special scholarship award from Ministry of Culture of Malaysia. Later he received a scholarship award from University Malaysia Sabah for further study and now is studying in a doctor degree at Universty of Sussex, UK. He studied with Iannis Xenakis, and has been described by Henri Dutilleux as 'un compositeur tres finement doue'. In 1996, he won a scholarship to study with Franco Donatoni at the Manuel de Falla International Festival in Granada, Spain. In 2001, he attended the IRCAM Academie d'ete. His works have been performed in the United States, Malaysia, United Kingdom and Singapore.
2nd Prize
Panayiotis Kokoras (Greece)

FEEDBACK
He started to learn theory of music composition and classical Guitar in Athens from 1987. Afterwards, he completed his postgraduate course at University of York, UK. He has received several awards and prizes, and his works have been performed in many festivals in Europe, Asia and the United States. Now pursueing a doctorate research as scholar of AHRB award.
2nd Prize
Theodor Pauss (Germany)

Scene for Orchestra
He studied composition, piano and conducting at Robert-Schumann University since 1992. Studied in the master course with Paul-Heinz Dittrich and Edison Denisov in Berlin. He has founded the contemporary music ensemble 'Formation Klang' and performed as pianist, conductor and organizer.
3rd Prize
Michael John Wiley (USA/Mexico)

Tzolkin in C Major
Born in New Mexico, USA. He was raised in Mexico City, and has resided in Arizona since 1987. He had a Bachelor's degree in music composition at University of Arizona. Currently working with the Tucson Unified School District.
Contact us
Tokyo Opera City Cultural Foundation
3-20-2 Nishi-Shinjuku, Shinjuku-ku, Tokyo 163-1403 JAPAN
Tel. +81 3 5353 0770
Fax.+81 3 5353 0771