Profile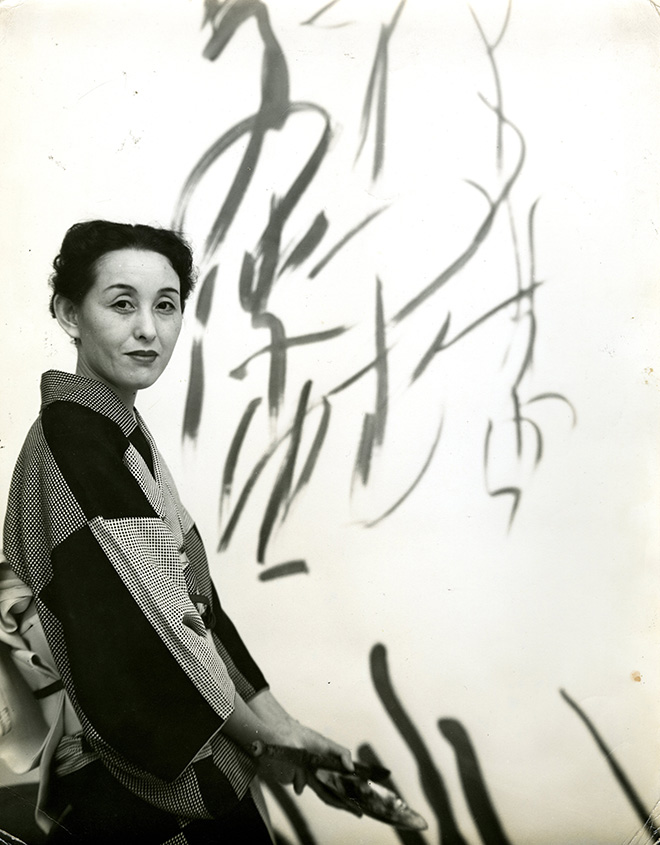 The artist in her atelier, New York, 1957
courtesy: Gifu Collection of Modern art Foundation
1913
Born on March 28 in Dalian, China. Relocates to Tokyo the following year when her father takes up a new post there. Enjoys calligraphy as a child.
1940
First solo exhibition at Kyukyodo Gallery in Tokyo. Her own freely inspired calligraphy, unbound by traditions, is criticised as "grass without roots".
1945
Spends two years recuperating from illness after World War II.
1947
Begins to produce abstract works unconstrained by calligraphic forms.
1954
Produces first architectural work: mural calligraphy for Kenzo Tange's Japanese Government Pavilion at the celebrations for the 400th anniversary of the city of Sao Paulo, Brazil.
Exhibits in the

Japanese Calligraphy

exhibition at the Museum of Modern Art in New York
1955
Produces calligraphy live on camera for documentary film

Calligraphie Japonaise

by Belgian painter Pierre Alechinsky.
1956
At a time of international interest in the resonance between Japanese avant-garde calligraphy and Western abstract art, relocates to the US alone for two years, working mainly from a base in New York. Presents solo exhibitions around the US and in Paris, France.
1958
Returns to Japan. Lives in Den-en-chofu, in the Ota Ward of Tokyo. Reaffirming that Japan's moist climate suits the nature of sumi ink, works on her own distinctive abstract expressions, creating in Japan, but actively exhibiting in other countries. Produces many works for architectural projects, including mural calligraphy, murals, ceramic walls, and theatre curtains.
1959

Tradition and innovation in Japanese art: Hakuin, Shiko Munakata, Toko Shinoda, Nankoku Hidai

exhibition at Rijksmuseum Kröller-Müller Otterio, the Netherlands.
1963
Builds a villa in the foothills of Mount Fuji, Yamanashi Prefecture, and subsequently spends time at the villa each year.
1965
Produces relief and mural for Kyoto International Conference Center (designed by Sachio Otani). Presents the first of a number of solo exhibitions at the Betty Parsons Gallery, New York.
1974
Produces mural and fusuma-e panels for Zojoji Temple, Tokyo.
1979

Okada, Shinoda, and Tsutaka: Three Pioneers of Abstract Painting in 20th Century Japan

exhibition (Phillips Collection, Washington DC, touring to other venues).
Wins the 27th Japan Essayist Club Award for

Sumi iro (The Colour of Sumi).

1992

Toko Shinoda Retrospective

, Museum of Fine Arts, Gifu.
1996
Solo exhibition

TOKO SHINODA VISUAL POETRY

, Singapore Art Museum.
2003
Toko Shinoda Art Space opens in Seki City, Gifu Prefecture.
2013
Retrospectives:

Shinoda Toko 100 years: Momo no Fu (Scenes from a Century)

, Gifu Collection of Modern Arts, Museum of Fine Arts, Gifu, and other venues;

Toko Shinoda—A Lifetime of Accomplishment

, Musée Tomo, Tokyo.
2021
Dies in Tokyo.