イントロダクション

Introduction
Tanikawa Shuntaro made a striking debut in 1952 with his anthology of poems entitled Two Billion Light-Years of Solitude. His unencumbered style steered away from sentimentality and emotion, providing a breath of fresh air in Japanese post-war poetry. Tanikawa gained further fame through his lyrics for the Astro Boy theme song, his translations into Japanese of The Songs of Mother Goose and Peanuts books, his screenplay for the Tokyo Olympiad movie by director Ichikawa Kon, and his collaborations with Takemitsu Toru and other musicians. Now 86 years old, he continues to enchant with fresh and vibrant language that engages his readers on a profound level.

The sheer scale and breadth of Tanikawa's work makes it difficult to capture a comprehensive picture of the man and artist. This exhibition starts with his 2007 poem, Self-Introduction, and highlights Tanikawa the poet today, introducing his day-to-day life as well as his work. Weaving poetry from the joys and pains of his everyday experiences, he has expanded the scope of words and poetry through an oeuvre spanning more than sixty years.
As well as considering Tanikawa's wide-ranging creative accomplishments, the exhibition includes a spectrum of material shedding light on his boyhood, friendships, favourite music and collections, with a view to gaining a better understanding of the poet as person. Visitors are offered a glimpse into Tanikawa's ongoing projects too, with new poetry written especially for this exhibition, and the presentation of a collaborative project with musician Oyamada Keigo (Cornelius) and interface designer Nakamura Yugo. It is a unique opportunity to encounter and interact with Tanikawa Shuntaro through his own words.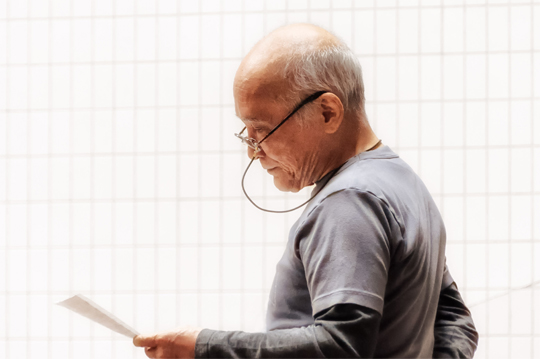 Photo: FUKAHORI mizuho