A house-cum-office of a married couple, both architects, stands in a crowded area of wooden dwellings. A housing complex is scattered across a lot like building blocks. A series of open housing units affords its residents a hint of each other's presence.

These houses devised by Atelier Bow-Wow, NISHIZAWA Ryue, and KITAYAMA Koh, internationally-active Japanese architects, were all designed for the city of Tokyo. They are buildings that attempt to create a connection with their surroundings according to the conditions of the lot and neighborhood. In a city in which people tend to isolate themselves inside their homes once they shut the door, is it possible to both maintain an individual identity and a connection with the city?

Unlike the succession of buildings that one sees in a European townscape, Tokyo is structured on assemblages of independent buildings. This urban system, in which buildings, as the smallest parts of a city, are repeatedly rebuilt, embodies the architectural principle of an "architecture or city that changes and develops as it metabolizes" that was first advocated by the Japanese Metabolist movement in 1960.

While buildings are predominant icons of financial power in Tokyo, the quiet collections of "houses," with their focus on daily life, produce magnificent change in the city. Along with physical, half-scale models of Atelier Bow-Wow's House & Atelier Bow-Wow, and NISHIZAWA Ryue's Moriyama House, this exhibition, which returns to Japan after first being staged in the Japan Pavilion at the Venice Biennale's 12th International Architecture Exhibition, includes Tokyo-only displays on the Yutenji Apartments, a work by the pavilion's commissioner, KITAYAMA Koh. This introduction of new architecture seeks to create new connections. The exhibition also includes "Index for the Coming City," which suggests future directions for the constantly changing city of Tokyo. The ehibition will provide visitors with a chance to reconsider the city in which they live and the form of the "houses" designed for living.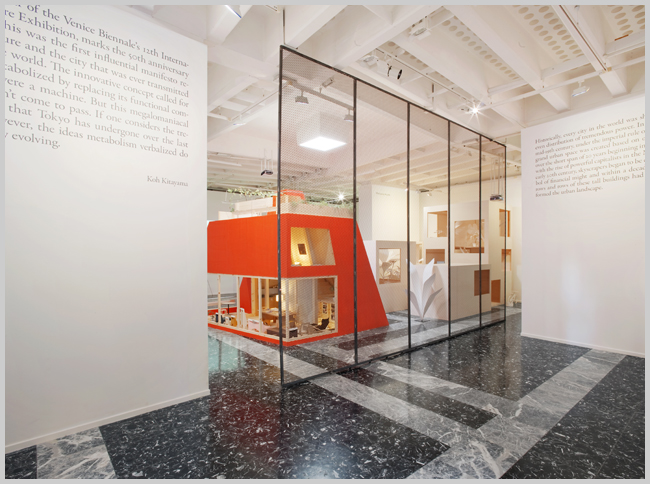 installation view: Japan Pavilion, 12th International Architecture Exhibition
2010
courtesy: The Japan Foundation
photo: Andrea Sarti/CAST1466