Tokyo and My Daughter
The title gives the impression that the photographs of a young girl are from a family album recording the growth of Homma's own daughter, but in fact, that is not the case. The girl is not Homma's child, and some of the photographs were not taken by Homma at all; they are "found photos," taken by the girl's relatives. Homma works on the viewer's assumptions and expectations, cleverly displacing them until they begin to waver. Despite that, the sense of the period is not swayed at all, coming clearly into relief.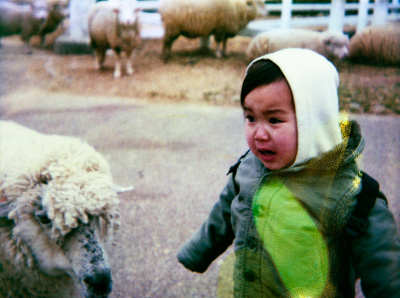 From Tokyo and my Daughter, 2010
© Takashi Homma
Widows
A series depicting eleven widows living in the Italian town of Rapallo, some 30 kilometres east of Genoa, together with photographs taken inside and around their homes, and also copies of old snapshots from their own albums. When this series was published in 2010, each woman was presented separately, but for this exhibition, they are shuffled together, so that instead of being records of the present and past of individual women, the photographs quietly reveal the town of Rapallo and its culture, addressing the memories contained therein.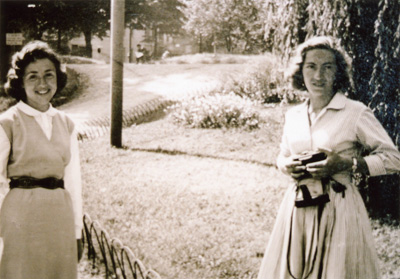 From Widows, 2009
©Takashi Homma
re-construction
Homma has actively and deliberately used magazines and advertisements as the medium for a large proportion of his work. This new series focuses on such photographs, collating them in the form of a book, re-photographed and edited by the artist. Today, photographs are said to only exert an influence when they appear in different media. As a result, however, photographs are exposed to a great variety of contexts, and undergo unexpected transformations each time they appear. Homma's self-referential interest in those circumstances can be seen in this work.
M
A new work featuring silkscreen prints of fast food joints that Homma has photographed in many different locations. These chain stores with their instantly recognisable logo have spread around the world, catching Homma's eye when capturing a suburban scene, for example. Screen printing is a technology used for making multiple copies, a very appropriate medium considering the endless propagation of the fast food stores around the world.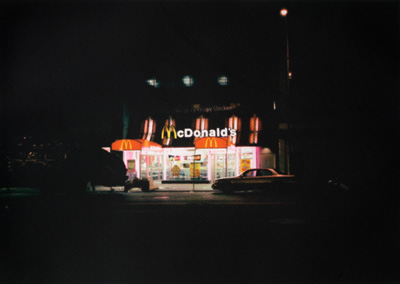 M / New York, 2010
©Takashi Homma
Together: Wildlife Corridors in Los Angeles
In 2006, Homma began collaborating with visual artist Mike Mills on a project to survey the habitats of wildlife on the periphery of Los Angeles. The photographs show desolate areas around highways, but each of the locations is based on GPS data from transmitters that were fitted to wild mountain lions by rangers to provide information on how they live. Every scene depicts somewhere that a mountain lion has passed through.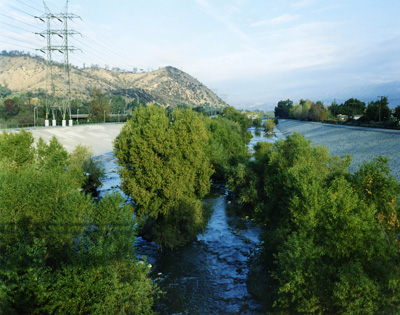 From Together, 2007
©Takashi Homma
Trails
As with the Together series, this began with an interest in wildlife. Homma apparently went along with deer hunters in Shiretoko, and photographed scenes related to the hunt. Nevertheless, no deer appears in any of these photographs. It's not even clear whether the traces on the white snow are actually an animal's blood, or perhaps paint or something else. The series includes drawings, too, which add to the puzzle.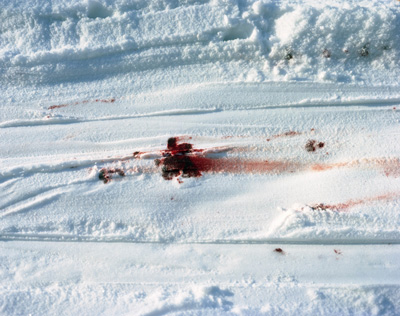 From Trails, 2010
©Takashi Homma
Short Hope (a portrait)
Homma has a great respect for photographer Takuma Nakahira, and during occasional visits, attempted to capture him close up in photographs, 16-millimetre film, and video. This series is exhibited for the first time here in Tokyo, and includes repetition of a short take of Nakahira in the process of lighting a cigarette. Homma's approach is a sublime homage to Nakahira—a photographer whose hope is to "completely grasp the world" through the day-by-day act of taking photographs.