Gallery 1 features two video works—Night Bus from 1995 and Birthday Party from 1997. Although currently focused on sculpture, Sone's interest was formerly oriented towards video and projects like Her 19th Foot, a vehicle made of 19 'monocycles' joined together intended to be ridden by 19 people working together. Night Bus and Birthday Party are two of the most significant videos from Sone's early period.

Night Bus, which won the Grand Prize in the first Philip Morris Art Award in 1996, records a long series of vistas as seen from the windows of late-night buses traveling Asia and the American west coast. The footage taken on the shuddering buses is unclear and reminds one of the kind of half-dazed experience people have riding on a late-night bus. Sone was actually not the one who filmed the video. He wrote letters to five friends asking them to take the videos while traveling in lands they had never been to before, and edited the resulting footage into a 15-minute video at his home. It was a collaboration between Sone and his friends, much like the way the artist now works together with artisans in China and Mexico. With this work, he transcended the limits and restrictions of the individual, demonstrating a more expansive way of creating that involves others.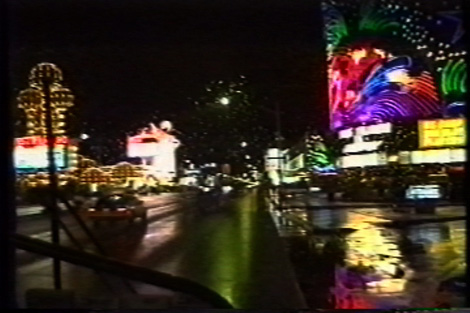 Night Bus
VHS, 1995. Private collection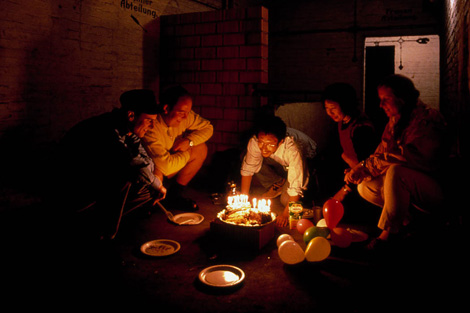 Birthday Party
DVD, 1997. Courtesy David Zwirner, New York.
In 1997,
Birthday Party
was exhibited at the fourth Sculpture Projects in Muenster exhibition in Germany, and made Sone world-renowned. In the video, Sone celebrates his own birthday every day with a variety of people that he encounters in the city of Muenster. He recorded people singing birthday songs and him blowing out the candles on the cake. He then played the edited 22-minute video on a monitor placed in the underground passageway in front of Muenster's Central Station. Daring to show a private video in a public place, the exhibit challenged the traditional relationship between the individual and society. Sculpture Projects in Muenster is actually an international sculpture exhibition, but Sone supposedly told project director Kasper König that to him video works were sculptures. The artist wanted to make a 'sculpture' of a humble personal history, of the joyful memory that everyone has of celebrating his birth into this world—to make a 'sculpture' of shapeless memory and light. This presents a new perspective on society and public places, a new way of seeing things, an approach that is a consistent theme in Sone's work.