A "Journey to the Centre of the Earth"
The exhibition has been designed to evoke a journey through the earth's geological strata. As you travel from the crust to the centre, you will reach the earth's "heart of darkness" – the root of human imagination. Along this journey, you can appreciate Konoike's works as an imaginative traveller.

The exhibition contains a variety of media. There are paintings – the massive four-part《Story Series》(2004-06); animation 《mimio-Odyssey》(05); drawings – including original drawing of 《mimio》(01),《Open Book Series》(06) and《Book Burning-World of Wonder》(07); sculptures – 《Virginia》(07) and 《Inter-traveller》(09); and Fusuma paintings –《Hidden Mountain》(08) and the new work《Shira-Spririt from the Wild》(09).

The climax is "the centre of the earth." There, you will encounter the new installation《Earth Baby》(09), which invokes both the earth's rotation and its rebirth. As you make your way home, we hope this exhibition helped expand your imagination, not only in encountering Konoike's work, but also in travelling through your everyday life.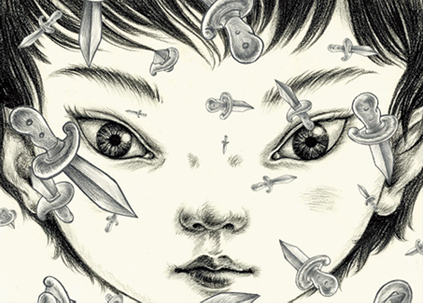 mimio- Odyssey 2005
DVD 11'30"



© KONOIKE Tomoko,Courtesy: Mizuma Art Gallery
---