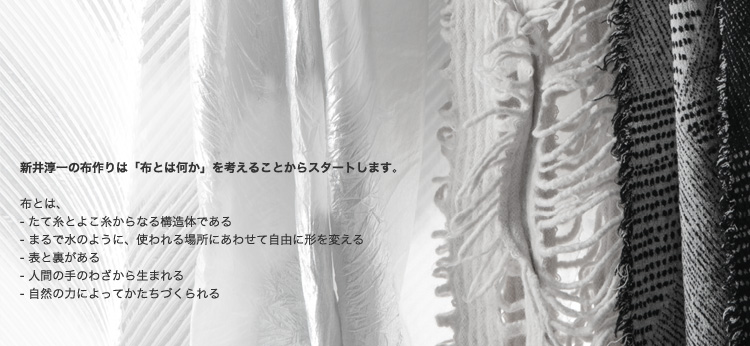 ARAI Junichi was born in 1932 in Kiryu, a textile center in Japan's Gunma prefecture. After high school, he worked in the family weaving business, where in addition to traditional manufacturing processes, from an early age he experimented creatively with textiles using new dyeing and weaving techniques. Through yarn development, dyeing, weaving, and finishing, he created fabrics with a wide variety of textures. This work involved collaboration with textile material manufacturers and converters around Japan and internationally. One example is ultra-light fabric woven with metallic yarn based on plastic film. Using traditional tie-dye techniques to partly dissolve the material in chemicals, he was able to produce fabric that was both transparent and reflective. Another example is a bulky felt material produced by washing 100% wool fabric for long periods. These and other innovative fabrics produced by Arai surprised the industry. They were achieved as a result of his ability to look deeply into basics, unconstrained by ordinary approaches to fabric manufacture.
Arai's worldwide reputation grew further through his links with fashion, when, in the 1970s and 80s, he collaborated with high-profile Japanese fashion designers such as MIYAKE Issey and KAWAKUBO Rei. The no-compromise approach taken by these collaborations significantly expanded Arai's range.
This large-scale solo exhibition attempts to give a comprehensive view of ARAI Junichi's work over a sixty-year period. Approximately sixty examples of fabric demonstrate a variety of techniques, and include new works. Together, they reveal the innovative thinking that Arai has applied in creating new textures from a basis in traditional handmade techniques. The exhibition design is the work of TANE Tsuyoshi of DGT (Dorell.Ghotmeh.Tane / Architects), an architectural partnership based in Paris. Tane's dynamic installation enables viewers to experience the way that the fabrics are freely transformed within the space, and utilizes video and audio to provide three-dimensional presentations including Arai's own descriptions of his work.
The manufacturing approach embodied by Arai in each piece of fabric inspires people who encounter it, encouraging their own creative ideas.